Specifications
Fence height(mm):800-2900
Fence Wire dia(mm):2.0-7.0
Fence Post length(mm):847--2947
FenceMesh Hole(mm):50*100,50*200
Use
Wire Mesh Fence also called defend fence and fencing.
According to the usage,divided into road fence,railway fence,highway fence,Airport guard ,bridge safety fence,anti-glare highway fence,Stadium fence,garden fence,area fence,temporary fence,highway barrier ,prison fence etc. Widely usage.
Double Wire Fence
Fence size: 200 mm x 50 mm x 2.5 Meters x from 630mm - 2630mm or available on request.
Post: This system choose Square Post (50*50mm, 60*60mm), Rectangular Post (80*60*2.5mm,120*60*3mm)

Airport /Prison Fence
Wire Diameter 2.5-7mm
Distance between two vertical wires not lower than 50mm
Distance between two horizontal wires 12.7mm to 200mm
Size: 2500x3000mmPost: 60x60x2.5mm
Triangle Bend Fence
Detail as follows:
H x W: 800, 1,000, 1,200, 1,500, 1,600, 1,800, 2,000 x 3,000mm;Corner post:48 x 2.5
Wire guage:3mm, 4mm. 5mm, the aperture size: 50 x 140mm, 50 x 180,0 x 200mm, 75 x 250m
Euro Fence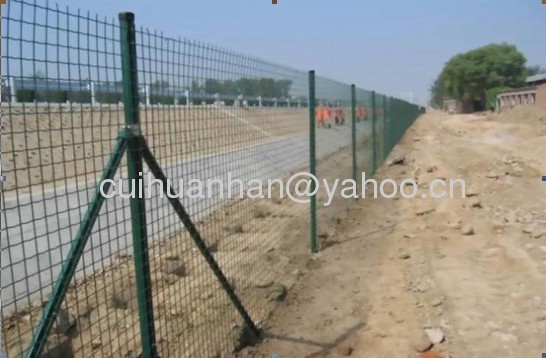 Sports Ground Fence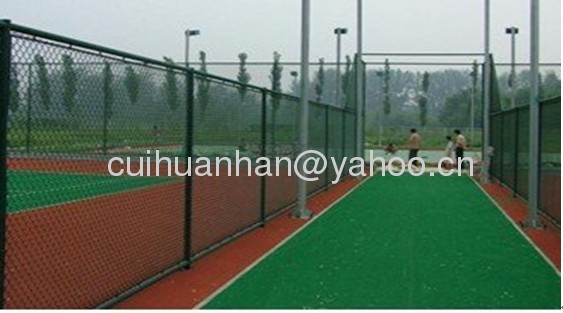 High Security Fence
Material:

low carbon steel wire, Al-Mg alloy wire,

stainless steel wire etc

Process:

weaving and welding; fence length 2m, 2.5m as standard

Height:

1.8m, 2m, 2.4m, 2.7m, 3.0m, 4.0m, 5.2m

Mesh size:

75mm x 12.5mm

Horizontal Wires:

4mm x 12.5mm centres

Vertical Wires:

4mm x 75mm centres

Post Centres:

2.5mm
Palisade Fencing


fitting

welcome inquiry
1,fence length height 2,wire dia mesh size 3,post size
Contact with me-Hancuihuan