Applications
Portable for vaccine, biological, blood, specimen or other heat-sensitive medication distribution and turnover on outdoors
Suitable for individual, immunization stations, health centers, CDC, Bureau of Animal Husbandry, etc.
Features:
1. Support AC110~240V, DC12~24V, 7.4V battery
2. Keep 2-8'C under ambient 32'C
3. 1.5L big capacity, portable, only 3.5kg
4. LCD temp display, interchangeable between 'C and 'F
5. Antifreeze, thermoelectric cooling
6. Energy saving
Standard packing: 1pc cooler, 1 car adaptor, 2 charger, 2 batteries, 1 accessories bag
Battery working time: Per battery working 6~8 hours under 35'C, battery is interchangeable and rechargeable.
Specifications:
Item

Specifications

1

size(L*W*H)

240mm*170mm*195mm

2

Volume(L*W*H)

180mm*100mm*80mm

3

refrigeration temp

2-8℃(under ambient 32'C)

4

Input /output voltage(adapter)

AC100V-240V/DC9.0V

5

Output current (adapter)

4A

6

Input/output voltage (car power)

DC12V/ DC9.0V

7

Current (vehicle power )

4A

8

Voltage ( lithium battery)

DC7.4V

9

Capacity ( lithium battery)

16000mAH

10

Power rating

DC9.0V/ 18W,DC7.4V/13W

11

Weight (with battery)

5kg

12

Standard packing

1pc cooler, 1 car adaptor, 2 chargers, 2 batteries, 1 accessories bag

13

Packing

Inner box: 330*290*245mm, G.W.: 5KG
Outer box: 4pcs per carton, 58*36*51cm, 21kg
Related Proudcts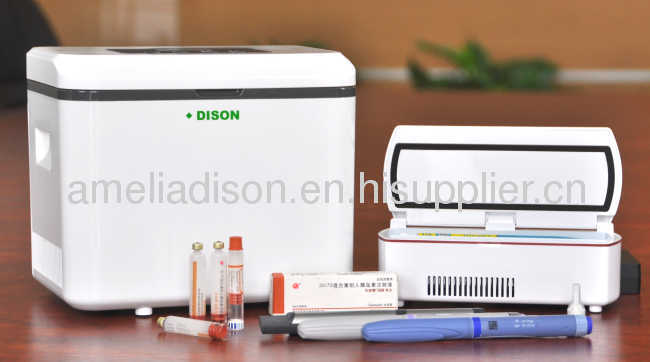 Accessories: