Description of 30A 5.0mm 26-10AWG Industrial Control - Screw Connection Terminal Blocks


Model:635
pitch:6.35mm

china supplier of 5.0mm 26-10AWG Industrial Control - Screw Connection Terminal Blocks

1.Material
Screws: M3 steel Zinc plated
Contact: Brass Ni plated
Pin header: Brass, Tin plated
Housing: PA66, UL94V-0

2.Electrical
Rated voltage: 300V
Rated current: 30A
Contact resistance: 20mΩ
Insulation resistance: 5000MΩ/1000V
Withstanding Voltage: AC1500V/1Min
Wire range: 26-10AWG 4mm²

3.Mechanical
Temp. Range: -40ºC~+105ºC
MAX Soldering: +250ºC for 5 Sec.
Torque: 0.5Nm (4.5lb.in)
Strip length: 6-7mm


4.Drawing of screw terminal block 635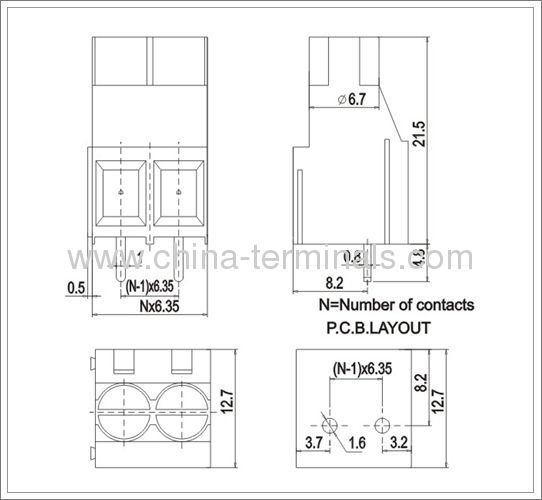 5.How to order


6.Package data, as follows,


Carton size :cm
1) 28*28*42
2) 52.5*29*48
3)63.5*28.5*40.5
4) 66.5*44.5*26.5

7.Range of application, such as,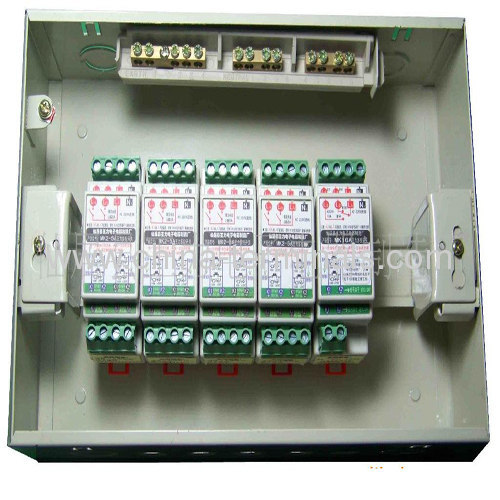 Function
A terminal block is a set of two or more similar screw-down connection points. You can connect wires
at these points. A terminal strip combines many similar blocks in a single device. In a strip, the blocks are insulated from one another.
Materials
A terminal block's main functions are to connect and to insulate. The main block body is made of a tough material, such as plastic or ceramic, that electrically isolates adjacent blocks. The conducting parts are made of copper and corrosion-resistant metals compatible with copper.
Use
A terminal block must first be mounted in a safe, stable location away from moisture. To use it, strip
about ½ inch of insulation from the two wires you want to connect. You then insert the bare wires into the block's metal connectors and screw them down until they're securely fastened.
30A 5.0mm 26-10AWG Industrial Control - Screw Connection Terminal Blocks KF635 has been presented above. It is good in quality and competitive in price. If you want more detailed information of this product or related problems, please contact with us, we will reply as soon as possible (general in 24 hours).