Playground dinosaur equipment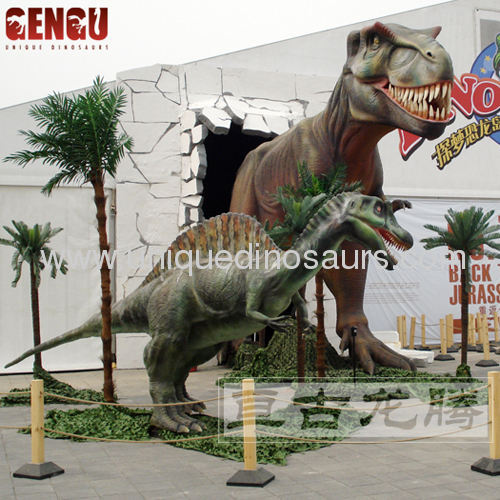 (1),
Handmade Craft of Animatronics Dinosaur

(2), High Quality and Competitive Price
(3), Kunming,World Expo Playground Vendor
Feature,
1), Life Sized animatronics animal.
2), Animatronic dinosaur with Movements and Sounds.
Features:
1. 9m long attractive dinosaur model
2. Playground dinosaur equipment
3. Robotics and alive look moving dinosaur
4. With CE & ISO
5. Amusement park equipment
6. Animated dinosaur
7. Professional dinosaur robot supplier made
Animatronic T-rex with fiberglass Spinosaurus
(1) Size: L=9m x H=4.8m, different type has different size,also depend on the requirements of customers
(2) Movements: mouth open and close synchronize with the sound, neck to head moving left to right-up and down,stomach breathing,tail swaying,forelegs moving,eyes blinking.
(3) Starting mode: coin operated, infrared sensor, swiping card, remote control, Initiate Button
(4) Control mode: motor-driven
(5) Sounds: Dinosaur roaring and howling sound
(6) Color: Custom as per buyers choice
(7) Material: Steel frame,foam,silicon rubber
(8) Power: 110/220 VAC 50/60 Hz
(9) Accessories Included: Control Box with one free spare, 2 speakers with build in woofer and volume controller, remote control, sensor infrared control, and free facts stand and more
(10) Remarks: All our animatronics products made up of well treated steel frame, servomotors driven for movements, skined or fleshed with a high density foam, and manually sculpted and coated by a professional artist with a high grade silicon rubber to have an alive look and touch and flexible to have fine and smooth movements and painted with a custom desired color.
(11) Packaging Details: This model is needed to cut into some parts prior for shipment and
way of packing depends on buyer's choice (simple packing/wooden case)
(12) Payment Terms: T/T, Western Union, L/C