EC In-line Circular Duct Fan from GP has Energy saving 30%~40%, 100% speed controllable, Integrated motor protection, Easy to connect .
We can supply the size100/4", 125/5", 150/6", 160/6", 200/8", 250/10", 315/12" for both DC Input 24V, 48V, 56V and AC Input 115V, 230V 50/60Hz. With the same easy of installation.


Technical parameters
·4'/100, 5'/125, 6'/150, 6.3'/160, 8'/200, 10'/250 & 12.6'/ 315mm Outlet sizes available
·Material:Backward Curved Centrifugal Fan with EC external rotor motor.
·Housing Materials: 8mm or 10mm galvanized sheet steel. Integral terminal box.
·Control Input 0-10VDC / PWM; PFC (passive) ; Tach output;Output 10VDC max 1.1mA, Over-temperatre pro.
Model
Impeller size (mm)
Voltage(DC)
Voltage range
Airflow(CMH) (CFM)
Power(Watt)
Current (Amp)
Speed (RPM)
Static Pres.(Pa)
Noise(dB)
Package Size(cm)
N.W/G.W (kg)
CDFD150
220x45-DC92
48V
up-72Vdc
660
382.8
102
2.43
3150
610
52
36x28.5x24
3.6 / 5.4
Dimension drawingand air flow curve chart of EC In-line Circular Duct Fan GDF150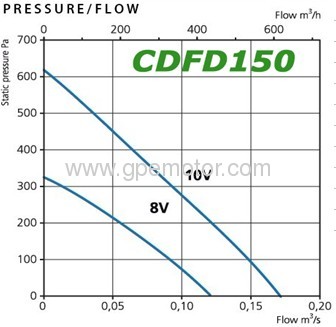 Applications: clean-room technology, ventilation, air-conditioning, building ventilation, etc.

Building ventilation system:The function of ventilation from our EC Fan can provide fresh air wherever people are present. Not only reduces the energy use and high efficiency,but also can been easy to connect and their ballbearing motor to speed control.
Clean rooms have extremely special requirements for air-conditioning systems.
EC Fan used in Precision Air Conditionerscan can offer no heat loads to deal with,ensuring a sufficient throughput of air, precise temperature and humidity control and constant air quality.
It offer on-demand, automatic and manually controllable variable speed capability and achieve the benefits of improved efficiency, reliability and low running costs.
EC Related recommend

EC Fan Motor,EC Fan,EC Duct Fan