Kitchen Knife Sharpener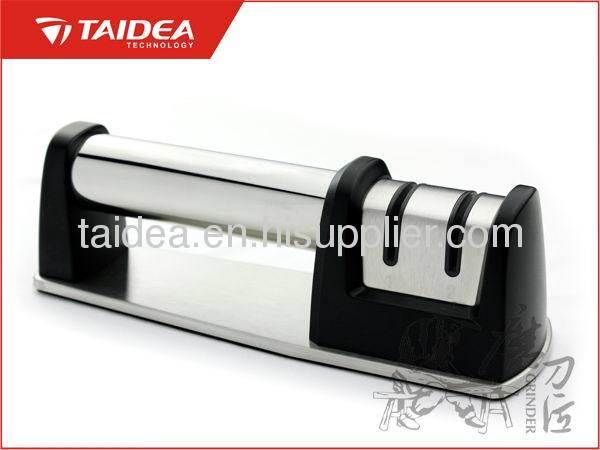 Product features:
1.Two steps - coarse and fine - sharpening design.
2.Unique sharpening wheel design, convenient to sharpen back and forth.
3.Classic model and stainless steel handle adornment highlights fashionable home style.
4.Stainless steel plate with EVA non-slip base ensure the safty of sharpening.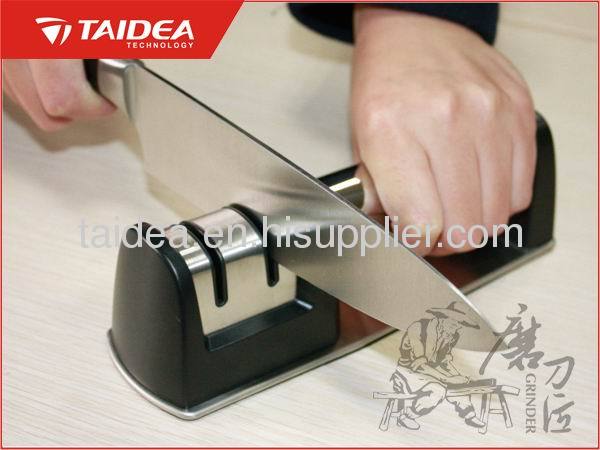 Using instruction:
1. Place the knife sharpener on a stable surface when using.
2. Complete one or both of the following steps depending on how blunt the blade is.
Step 1: Coarse sharpening: used to repair the serious damaged knife, suitable for blunt knife.
Place knife on the sharpening slot, using slight downward pressure, run the blade from its heel to its point through the slot. Repeat 3 to 5 times. Sharpen the tools every six months or as required.
Step 2: Fine honing: it's a necessary step which used to eliminate the burrs on the knife and polish it. Please refer to the step 1 regarding to the use method. It is recommended to do it approximately once a week to keep your blade sharp at any time.
3. Clean the knife with the water or wiper and dry after use; clean the knife sharpener with non-abrasive brush.