Barbecue Skewer with Bamboo Handle
Description
| | |
| --- | --- |
| Name | Disposable bamboo skewers |
| Usage | Tableware,household ,Dining,picnic,camping,Resturant .etc |
| Material | 100% Mao bamboo |
| Length | Normal lengths : 9cm,10cm,12cm,15cm,18cm, 20cm,25cm,30cm,35cm, 40cm,50mm etc. |
| Dia | Normal diameters :1.3mm,2.0mm, 2.5mm, 3.0mm, 4.0mm and 5.0mm. |
| Color | Natural color |
| Feature | Eco-friendly, smooth, clean, safe to use, hard ,no joint,no sticks |
| Production types | knotted&handle skewers ,round skewers so on |
| Inner packing | 100pcs/bag,100bags/carton .Personified design and logo are workable .up to your option. |
| Outside packing | Standard exporting carton |
| Quality | A,A/B,B ,up to your choice |
| Market | North America ,Europe,Korea,Japan ,Russia and so on |

Delivery and payment terms
| | |
| --- | --- |
| Production time | After receive your 30% deposit 30-40 days |
| Tansaction mode | FOB Ningbo or FOB Shanghai.CIF. CNF .etc. up to your option. |
| Payments terms | T/T, L/C AT SIGHT |
| Certificates | SGS,LGBF |
| Sample charge | Samples cost, and need to pay the freight . |
Company introduction

Our pampany is a professional manufacturer of bamboo prouducts.we mainly produce bamboochopsticks(Disposable and reusable bamboo chopsticks),bamboo skewers etc.Our products are all made of 100% pure Mao bamboo,have passed high-temperature sterlizing,We have micro-wave ultraiolet machines ,before packing ,All of our products will go through these machines to kill possible germs and worm in the bamboo skewer.and then drying ,healthy,hygienic,convinient and safe to use ,Our products mainly export to Uinted states ,Japan ,South Korea ,We try our best to serve our customers with our high-quality products and fair price .Welcome to contact us .

goods specification:round bamboo sticks,round bamboo skewers,knotted skewers,flower skewers,gun shape skewers,skewer with handle,golf skewer,BBQ skewers,round BBQ sticks and so on.high quality and cheap price .no mould exists ,clean and smooth ,healthy and convinient ,different packing methods are available .
Specifications
Disposable Barbecue Skewer
1material:mao bamboo
2uneasy to break
3environment-friendly
4high temperature treatment

Features:
1.mater:mao bamboo
2.end:point
3.shape:round
4.environment-friendly disposalbe bamboo skewer
5.high temperature treatment
6.uneasy to break
7.delivery on time
B
amboo Barbecue skewers are used to make kabobs on a grill. They must be soaked before using or else they can burn up from the heat of the grill. Once soaked, you can place meat, fruit or vegetables on them and grill them as usual. Metal skewers do not need to be soaked. A nice thing about using bamboo skewers, as opposed to metal skewers, is that they do not get too hot on the grill, and can be held immediately after removing from the grill.
Bamboo Barbecue skewers are a summertime staple for barbecues and home cookouts. They work well for marinating and grilling meat, but can be used for other cooking needs as well. The skewers may be reused; however, it's not always a good idea. If you decide not to use the skewers, they can be composted since they will break down naturally.
Barbecue Skewer with Bamboo Handle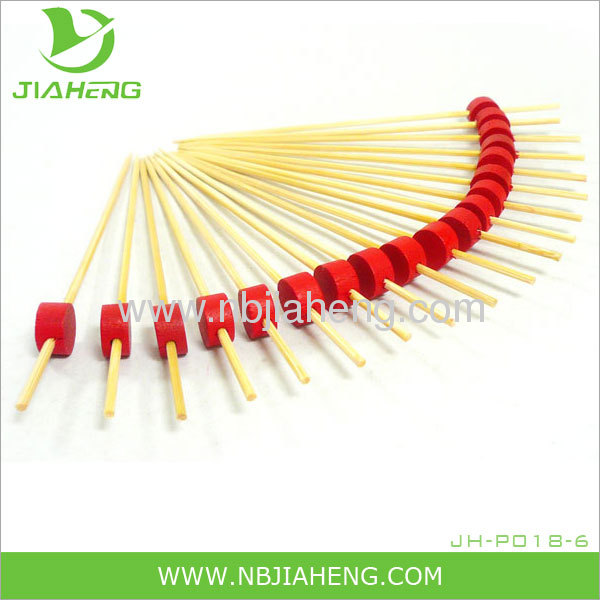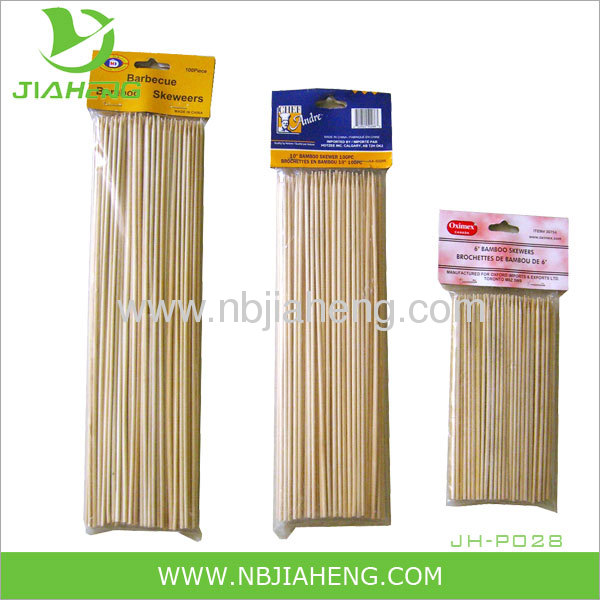 Fire up the barbecue and make the most of summer with something special cooked over coals. Yakitori, satay, brochette, kebabs – some of the tastiest dishes are cooked on skewers. This versatile set gives you four double and four single stainless steel skewers so you can cook your own at home. The double skewers are a simple but ingenious invention of two long prongs side by side. They hold prawns, haloumi cheese or small pieces of veg firmly in place so they don't swivel when you turn them. The single skewers are barbecue and grill essentials for cooking large pieces of meat, fish, veg and even fruit or marshmallows.
Barbecue skewers are a grilling utensil that makes it easy to cook small pieces of food together. There is a wide variety of BBQ skewers. Some are used to place directly on the BBQ grill, while others are used in conjunction with a rotisserie . These skewers can be used with all varieties of meats, seafood, chicken and vegetables.
Bamboo skewers function nearly as well as metal skewers. The bamboo imparts no metallic taste to acid foods. Inexpensive bamboo skewers cut costs, allowing serving grilled foods in quantity without buying an array of metal reusable skewers. Bamboo skewers biodegrade, eliminating cleanup without adding to landfill problems. Sustainable environmental practices include replacing plastic disposable cutlery with bamboo equivalents.
If you want more detailed information of this product or related problems, please contact with us, we will reply as soon as possible (general in 24 hours)..