product name:bottled magnetic dart board
model no.:HFMDB019
application:entertainment
type:soft magnet
composite:Iron power sheet and colth
brand name:Honfon

General Description
1, Magnetic dart board provide traditional fun for the whole family. Held by magnetic force.
2, This magnetic dart game is first to be patented worldwide.
3, Darts are made of Ndfeb Magnet which energize the magnetic field and land on your magnetic board with precision.Since darts are round (not sharp) your family can enjoy this game in safety.
4, Due to enormous magnetic strength, dart hits and stick to the board easily.
5, It is an exciting game for your family.

Features:
With hard magnets in the front of the flayers and flexible rubber magnet inside the dartboard, magnetic dartboards are safer than traditional ones
Many series of magnetic dartboards in either square, round or some other shapes are available
safe magnetic darts
packed in paper bottle,better for gift idea.
Fancy printing,fuuny design is suitbale forchildren,put your logo on the printing,wonderful to promote
Existing size : 8" , 9" , 12",15" and 17".
Your disgn and your requiry are welcome.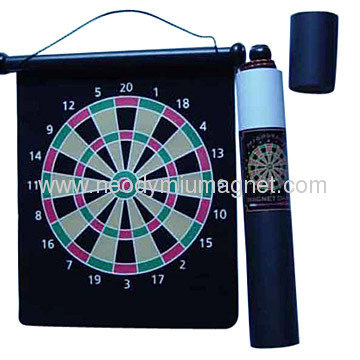 bottled magnetic dart board