Product Name:Super Bright 14 LED Flashlights
Size:¢35×¢27×124 mm
3xAAA battery
CE/Rohs
FREE Sample available

(1). Material:aluminum with anodized finish, which is extremely durable and resists to crushing, bending and corroding.
(2). All the joints with O-ring sealed, Weatherproof and Shock Resistant.
(3). Crust Color: Black, Silvery, Blue, Red, Green, or Customized
(4). Light Source: 14pcs super bright LED with lifetime 100,000 hours.
(5). Rubberized on/off button switch on the body side.
(6). Powered by 3pcs 'AAA' batteries
(7). After sales service: 1 year warranty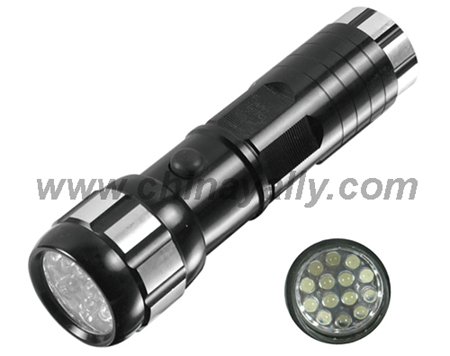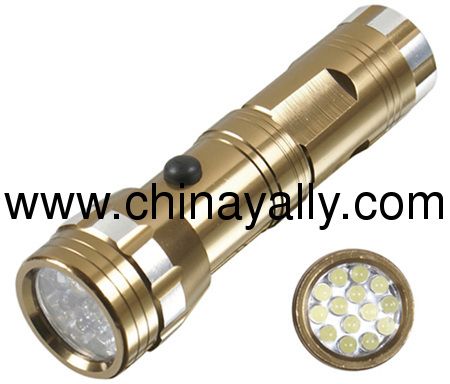 Product Feature:
1. Adopt Rough & Tougher 6063/T6 aerocraft grade aluminum alloy housing,Shockproof, dust-proof, corrosion resistant
2. LED lifespan: 100,000 hours
3. LED Brightness:13,000-15,000MCD
4. Irradiation range:up to 30m
5. Led torch idea for illumination,reading,camping,hiking,police,fire man,fishing,travelling and so on
6. Tactical tail cap switch
7.Continuous lighting 12hours
8.O-ring sealed water resistant,weatherproof IP64
9.With Durable wrist strap,easy carry
10.CE & ROHS approved

Attentions:
1)Take care: Children below 6-7 years old should use the products under the parents's guide;
2)Don't use it directly to anyone's eyes,it may bringing harms to your eyes;
3)Avoid to put it on the high temperature or moist places;
4)Taken the batteries out after long use;
5)Change the batteries when the batteries are run up.

-------------------Super Bright 14 LED Flashlights

14 led flashlight, 14 led torch