Detailed Product Description
galvanized Welded Wire Fence Panels
material steel tube
treatment process hot galvanize welding
size as your request
price negotiate

Mesh Panels are specifically designed for use in mare and foal paddocks where there is a need for a safe and secure fence.
The 6' 2" high panels are made out of 1 7/8" galvanized steel tubing with heavy duty 2"x4" wire mesh welded to the lower 5' 4" of the panel. The Ultra-Mesh Panel comes standard 12' in length (custom sizing available up to 12' long).
Mesh Panels can be custom built to safely accommodate your miniature horses, dogs, swine, sheep, llamas, alpacas, emus, and much more. We can help you design the perfect panel for your livestock.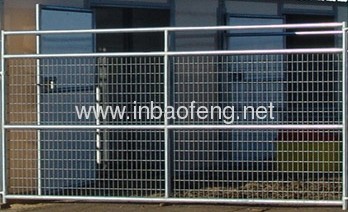 galvanized Welded Wire Fence Panels