product name :
Shock Absorber (SC2540-2)


Safe and reliable production
High service life of the machine
Lightweight and low cost construction
Low operating costs
Quiet and economic machines
Low machine load
Increased profits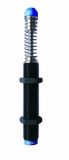 Shock absorbers are an important part of automobile and motorcycle suspensions, aircraft landing gear, and the supports for many industrial machines. Large shock absorbers have also been used in structural engineering to reduce the susceptibility of structures to earthquake damage and resonance. A transverse mounted shock absorber, called ayaw damper, helps keep railcars from swaying excessively from side to side and are important in passenger railroads, commuter rail and rapid transit systems because they prevent railcars from damaging station platforms.