Lead-acid BatteryLed Flashlight
LED: 1pc(0.5W)
Battery: Lead-acid battery,4V/0.5MAH AC: 110-250 V
QTY: 120 pcs/ctn
MEA: 15*3.8*3.5CM
G.W.:20KGS N.W.:15.5KGS
Package : Blister card
Duration time: Approx 6 hours
Out Carton Size :47*45*30CBM
This desgin can adjust the light ,weak light and strong light.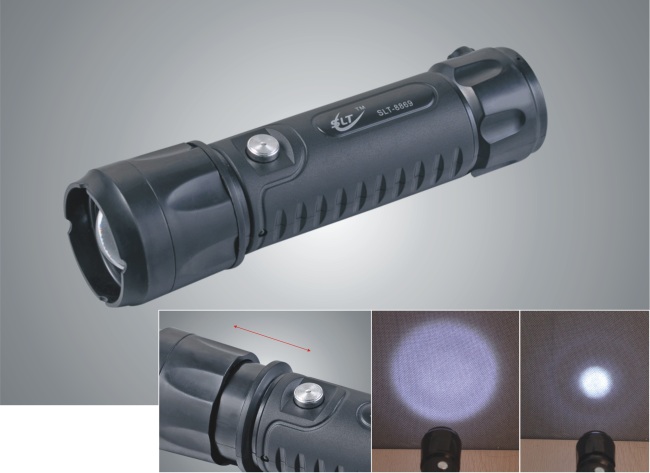 1.Use 3 long life and high brightness LED bulbs. LED bulb is low power consumption and the max brightness continuous working time is more than 36 hours.
2.Durable and good-looking casing with ABS plastic. Antiroll design. Affording optional colors.
3.New design, exquisite, and easy to carry for travel, home use and outdoors. And also good for promotion gifts.
1.Feather of product
a)With long life non-maintenance battery, above 200 times circulating.
b)With super bright, long life &electricity saving LED.
c)Adopt special focus reflecting cap, the light can reach as far as 150 meters.
2.Usage Instruction
a)Push the plug out when lights charging and insert it directly into 110V-250V socket. The charging indicators lights then. Full charging requires is 8-15 hours.
b)While using , turn the switch to ON, while stopping lighting, turn the switch to OFF.
c)The light can last more than 8 hours with full power.
3.Cautions
a)When the energy power is exhausted, please charge it up immediately. The product should be used and charged frequently, and when you do not use it for a long time, please charge it up every two months, otherwise, the service life of this product will be reduced.
b)The at most charge times should be less than 24 hours.
c)Don't use it when charging.
d)Don't let it wet or caught in the rain.