JY-7200 rechargeable flashlight
LED :5pcs
Battery :Lead-acid rechargeable battery (4.0V/0.6MAH)
AC:110- 250V
ABS Material body
Duration time: Approx 8 hours
Quantity/Ctn: 120PCS (Blister Pack)
CARTON MEAS:58*52*38cm
G.W.:20.5KG N.W.:17KG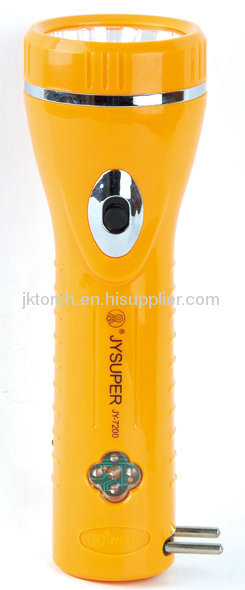 1. Feather of product
a) With long life non-maintenance battery, above 200 times circulating.
b) With super bright, long life &electricity saving LED.
c) Adopt special focus reflecting cap, the light can reach as far as 150 meters.
2. Usage Instruction
a) Push the plug out when lights charging and insert it directly into 110V-250V socket. The charging indicators lights then. Full charging requires is 8-15 hours.
b) While using , turn the switch to ON, while stopping lighting, turn the switch to OFF.
c) The light can last more than 8 hours with full power.
3. Cautions
a) When the energy power is exhausted, please charge it up immediately. The product should be used and charged frequently, and when you do not use it for a long time, please charge it up every two months, otherwise, the service life of this product will be reduced.
b) The at most charge times should be less than 24 hours.
c) Don't use it when charging.
d) Don't let it wet or caught in the rain.
4. Quality guarantee
This product is guaranteed for three months from the purchase if any real quality problems occur. However, if damages caused by user's incorrect operation are not included.