Product Name:
China OEM Lost Wax Steel Casting Foundry

Model No.: JH12131
1.lost wax steel casting;
2.OEM, ODM service;
3.ASTM, DIN, BS, JIS;
4.ISO9001:2000 certified;
5.17 years cast experience;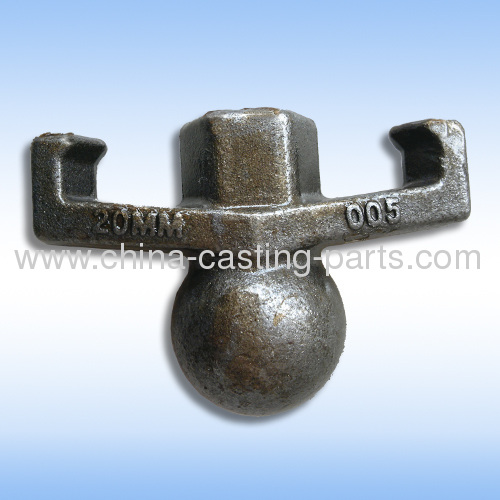 China OEM Lost Wax Steel Casting Foundry
Specfications:
1)
Process
: lost wax investment casting.
2)
Material
: carbon steel, alloy steel, stainless steel, iron, etc.
3)
Machining
: turning, milling, drilling, grinding, threading, CNC machining.
4)
Finishing
: sand blasting, polishing, plating, acid treatment, anodizing, PVC powder coating, painting...
5)
Design
: customized samples or drawings are accepted.
6)
Quality System Certificates
: ISO9001:2000, TS16949:2009, GL MCC.
7)
Weight range
: 0.5-80 kg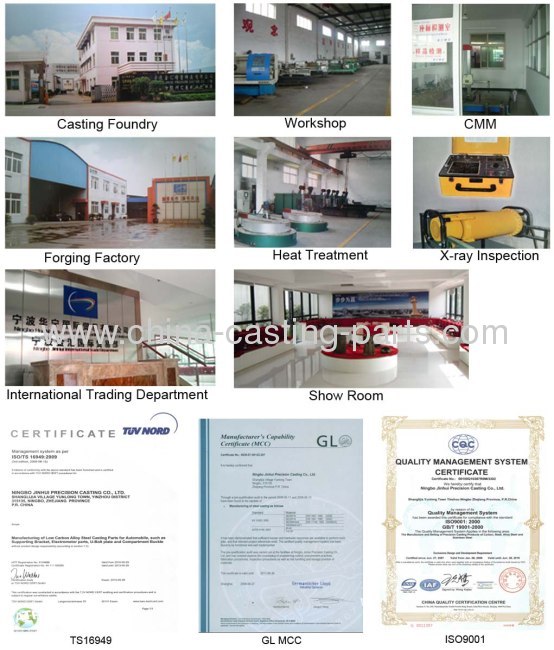 JINHUI Casting & Forging Factory Details
Employee
400 for foundry, 60 for forging factory
Established
Year
1995
Process
Precision Investment Casting & Forging
Weight Range
0.5-80 kg for casting, 0.1-30 kg for forging
Certificate
ISO9001:2000, TS16949:2009, GL MCC
Annual Capacity
10,000 ton for casting, 5000 ton for forging

Design
Software

Pro/E, AutoCAD, Solid Works, etc.
Inspection
MT(magnetic test), RT(radiograph test), UT(ultrasonic test), PT(presure test),
CMM(Coordinate measuring machine), SI(Surface indicator), HT( hardness test)
Export Market
/ Ratio
Europe, USA, Canada, Austrialia / Over 90% for exporting
Main Products

Railway parts, Auto parts, Marine Parts, Investment castings, Forging parts,

MachinedParts, etc.
Ningbo Jinhui Precision Casting Co., Ltd
. is a professional casting ,machining and stamping manufacturer and factory in China , Ningbo city which is famousfor the second biggestcontainer port in China. We can produce investment casting, lost wax casting, die casting, sand casting ,machining, stamping hardware and forging.
we are a professional and experienced foundry (investment casting) with ISO9001:2000 certified. Our modern facilities for spark spectrometer, tensile strength, hardness tester, and metallurgical
Analysis equipment etc. can assure the mechanical properties and chemical elements according
to your request.

Our company occupies an area of 30000 square meters, with more than 400 workers operating in two shifts, producing 13000 tons/month.
The key to our success is constant striving for customer's satisfaction through employee participation and advanced equipment. We are anxious to cooperate with you and will be dedicated in meeting your high quality requirements.