product name:
430ss no-perforated band quick release hose clamp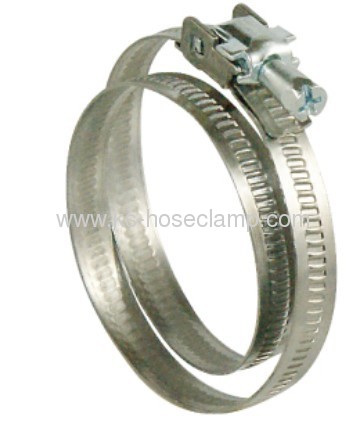 Specifications
quick release hose clamps
1,Perforated band
2, stainless & galvanised steel
3,special usage
4, US & Europe market


quick release hose clamps
The introduction of the Quick-Lock range into our program provides new solutions for our customers . Rapid advance, pre-clamping, customized length , the scale of our product range provides you with an adequate response any problems which occur.
Screw and casing, electrically zinc-plated and chromated yellow.




| | | | | |
| --- | --- | --- | --- | --- |
| item no.SFS02B | bandwidth | size mm | free troque (Nm) | break troqu (Nm) |
| SFS02B1627 | 9mm | 16-27 | 0.8 | 3.5 |
| SFS02B2335 | 9mm | 23-35 | 0.8 | 3.5 |
| SFS02B3045 | 9mm | 30-45 | 0.8 | 3.5 |
| SFS02B4060 | 9mm | 40-60 | 0.8 | 3.5 |
| SFS02B90 | 9mm | 25-90 | 0.8 | 3.5 |
| SFS02B100 | 9mm | 25-100 | 0.8 | 3.5 |
| SFS02B115 | 9mm | 25-115 | 0.8 | 3.5 |
| SFS02B125 | 9mm | 25-125 | 0.8 | 3.5 |
| SFS02B145 | 9mm | 25-145 | 0.8 | 3.5 |
| SFS02B150 | 9mm | 25-150 | 0.8 | 3.5 |
| SFS02B175 | 9mm | 25-175 | 0.8 | 3.5 |
| SFS02B200 | 9mm | 25-200 | 0.8 | 3.5 |
| SFS02B215 | 9mm | 25-215 | 0.8 | 3.5 |
| SFS02B225 | 9mm | 25-225 | 0.8 | 3.5 |
| SFS02B250 | 9mm | 25-250 | 0.8 | 3.5 |
| SFS02B275 | 9mm | 25-275 | 0.8 | 3.5 |
| SFS02B288 | 9mm | 25-288 | 0.8 | 3.5 |
| SFS02B300 | 9mm | 25-300 | 0.8 | 3.5 |
| SFS02B320 | 9mm | 25-320 | 0.8 | 3.5 |
| SFS02B350 | 9mm | 25-350 | 0.8 | 3.5 |
| SFS02B370 | 9mm | 25-370 | 0.8 | 3.5 |
| SFS02B400 | 9mm | 25-400 | 0.8 | 3.5 |
| SFS02B420 | 9mm | 25-420 | 0.8 | 3.5 |
| SFS02B450 | 9mm | 25-450 | 0.8 | 3.5 |
| SFS02B500 | 9mm | 25-500 | 0.8 | 3.5 |
| SFS02B550 | 9mm | 25-550 | 0.8 | 3.5 |
| SFS02B600 | 9mm | 25-600 | 0.8 | 3.5 |
| SFS02B650 | 9mm | 25-650 | 0.8 | 3.5 |
| SFS02B700 | 9mm | 25-700 | 0.8 | 3.5 |
| SFS02B750 | 9mm | 25-750 | 0.8 | 3.5 |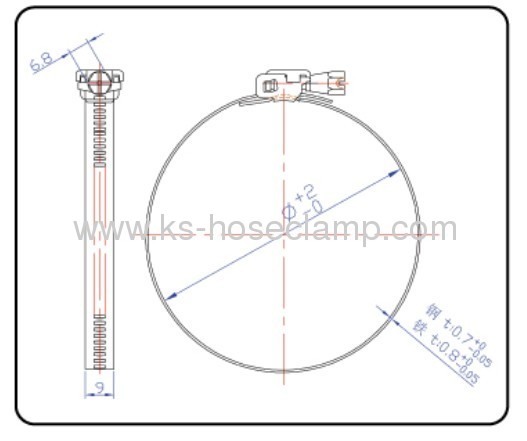 SFS02B--9mm bandwidth,W4,the screw and housing are zinc plated steel,others are 430ss
according to the requirement of customers,other sizes and material are also available
430ss no-perforated band quick release hose clamp