Metal shearing machine

Dsecriptions:
Metal machine,metal shearing machine,metal plate shears. This series of crocodile-type hydraulic metal shears are applied in recycling companies, automobile dismantling plants,smelting and casting industry to cold shear section steel and metallic structural parts into acceptable furnace charges.Adopting hydraulic drive,Q43 series feature simple operation and easy maintenance.Its safe and reliable.
Shearing force grades from 63 to 400 tons;blading 400mm, 600mm,700mm,800mm,1000mm,1200mm.No footing bolts needed during installation.Use diesel engine in Replacement where electric power is unavailable.Lengths of blade 400mm,600mm,700mm,800mm,1000mm,1200mm, shear force ranges in eight grades from 63T to 400T,which can meet users with different requirements.
Horizontal shear machine are used for the metal steel coil unwinding, school level, cut to length, cut into the flat sheet of required length and stacking. Applicable to the processing of cold-rolled and hot rolled carbon steel, silicon steel, tinplate, stainless steel and various types of metal materials in surface coating.
Features:
1.Steel-welded structure, hydraulic drive, rectum of knife beam is smooth and prompt by accumulator or nitrogen cylinder, with reliable performance and beauty appearance;
2.easy and quick to adjust the blade gap,
3.Equipped with light for line devices, up-blade's stroke can be adjusted unlimited
4.The working table has fence for protection personal safety
5. Size of back gauge can be controled by minitype reducer, with low noise, accurate positioning.
6. Easy to operation, dependable performance,beautiful outlook
Computer IPC: Delta Pic host points 40, 16k memory, 30 kHz high-speed counting, DVP20EHOOT2.Touch screen: 5.7 high brightness of display, multicolor, operation via a touch can easily complete the number of pieces, length, speed, numbers of punching, and holes center distance parameters corrective action.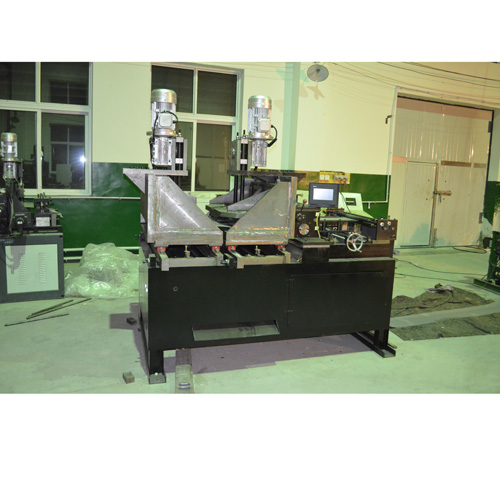 Metal shearing machine