product name :
UPPER-ARM INTRAMUSCULAR INJECTION SIMULATOR


Upper-arm Intramuscular injection simulator(medical model, nursing model)
material:PVC
Injection model, injection practice
Features:
1. The simulator is wearable.
2. Imitate shoulder and upper limb structure of adult simulation, compact design lightweight, and closer to the real environment. At the same time, the skin texture is very realistic, is not obvious needle marks.
3.. Red light and sound will alarm if injection is too deep or the position is wrong.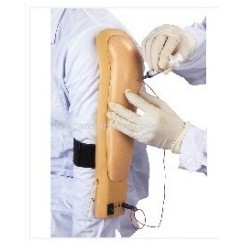 UPPER-ARM INTRAMUSCULAR INJECTION SIMULATOR