Gowell bathtub wholesale
Acylic Bathtub Portable Bathtub Acrylic Solid surface bathtub Freestanding Bath tub Corian Bathtub
Sell Acrylic Solid Surface Bathtub, Royal Bathtub

Production Information:
| | |
| --- | --- |
| | |
| | 100% Pure Acrylic Solid Surface/ Modified Acrylic Solid Surface |
| | |
| | |
| | |
| | |
| | |

It has the very outstanding Features, they are :

1) Excellent tenacity, can be easily bent into various shapes;

2) Smooth, solid, seamless;

3) Superior stain/bacteria/chemical resistance;

4) Easily maintaining and repairable;

5) Very low water absorption & excellent penetrability;

6) Very high oxygen index & flame resistant;

7) High gloss, beauty finish with elegant texture;
8) Wide range colors; custom colors are acceptable.

Advantage:

1.Classic and modern design
Our products are designed with scientific methods, it can meet your comfortable and healthy need. As the material of the bathtub is acrylic solid surface, it can keep the temperature of water for long time. Sleek and shiny surface make it easy to protect. Life can be very enjoyable and comfortable when you lying in it, it must be your best choice!

2. Better quality control:
Gowell has been certified by ISO 9001:2000 SGS UK for quality assurance system, the U.S. National Sanitation Foundation (NSF), and got the Food Contact Certification. We have a strict control from the raw material, processing, to finished products.

3. Professional Customized Service:
Relies on its advanced design concept and technology, Gowell offers various customized designs service to meet different requirements, without any space and size limitation. We provideindividual customized service such as chairs of special style, artware in thousands of shapes, and pleasing lampshades, and so on.
We are able to process the solid surface finished product , for examples : countertop for kitchen and bathroom , table for bar and coffee, work table and various special products , light box ,cylinder and so on.
1) joint invisible , more beautiful appearance.
2) No bubbles , anti-pollution , easy to clean and maintain.
3) Professional packing design , accept OEM processing.
4) Processing for polishing:
A: glossy : polishing shining as glass.

Product Picture: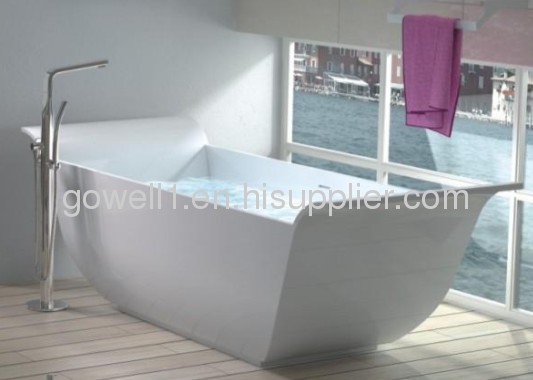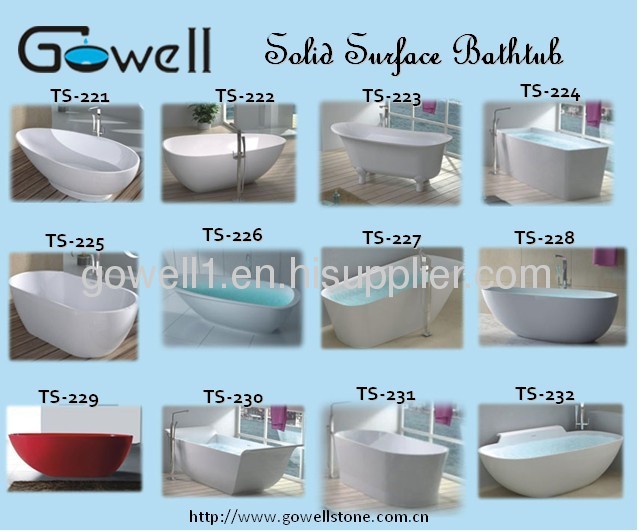 Gowell Manufacturer's Main Introduction

As one of the biggest manufacturer of Acrylic Solid Surface material in China, we are producing various kinds of acrylic solid surface products such as Pure Acrylic Solid

Surface Sheets, Blended(modified) Acrylic Solid Surface Sheets, Solid Surface Kitchen

Sinks & Countertops, Solid Surface Vanity Tops & Washbasins & Bathtubs, and other fabricated products like shower panels, shower trays, shower walls, etc.


We have the most advanced production line and the most experienced fabricators in China. We can meet your special size or color requirements on the sheets and special design requirements on the finished products.