SC13.0X: Fast, Compact and Reliable for Most Extrem Conditions

Single line rated pull: 12000lb (5443kg)
Motor: 6.6hp/4.85kw, series wound 12V
Control Remote switch: 12ft (3.7m) lead
Gear train: 3 stage planetary
Gear reduction ratio: 191:1
Clutch: key way cam clutch
Braking: Automatic load-holding brake
Drum size: Diameter 63.5mm *Length 224mm
Cable: 26m of 9.1mm diameter
Fairlead: 4-way roller fairlead
Remote control: Included
Wireless Remote control: Included
Battery recommended: 650 CCA minimum for winching
Battery leads: 2 gauge, 72" (1.83m)
Finishing : Black, dark grey coating
Overall dimension (length*width*height): 538*160*214mm
Mounting bolt pattern: 254*114.3mm
N. W. /G. W.: 37/39KG
Packing: thick foam packing, 1PC/CTN

Pull, speed, amps
| | | |
| --- | --- | --- |
| Link pull lb/kg | Line speed ft/min(m/min) | Current(A) |
| 0 | 21.3(6.5) | 65 |
| 2000(907) | 11.5(3.5) | 126 |
| 4000(1814) | 9.4(2.85) | 175 |
| 6000(2721) | 7.9(2.4) | 230 |
| 8000(3629) | 6.5(2.0) | 280 |
| 10000(4536) | 5.8(1.75) | 355 |
| 13000(5670) | 4.1(1.25) | 415 |


Line pull and cable capacity per layer
| | | |
| --- | --- | --- |
| Layer | Rated line pull lb(kg) | Total rope on drum ft(m) |
| 1 | 13000(5897) | 17(4.8) |
| 2 | 10010(4541) | 41(12.0) |
| 3 | 8840(4010) | 71(21.0) |
| 4 | 7410(3361) | 85(26.0) |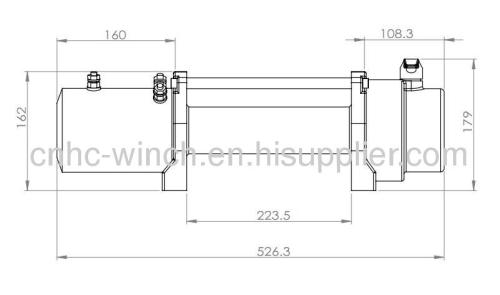 Key way cam clutch Features
1. Gears are 20Cr steel crafted with cold extrusion and heat treatment, to meet toughest pulling demand.
2. Gear ratio 191:1, high line speed.
3. Rotating to get your winch fully engaged and disengaged both in two directions.
We have key way cam clutch for 4x4 winch. Rotating to get winch engaged and disengaged

Our company is a professional winch manufacturer for 4x4 electric winches, truck winches, car winches, power winches, jeep winches, ATV trailer winches, boat winches and winch accessories. Our products are produced at a high quality standard to meet your toughest pulling demand and off road activities. All 4wd winch gears are cold extrusion steel, winches are 100% tested on pulling and function. Welcome you to contact us for business cooperation!