Respirator Mask

With safety glass and two dust ,carbon box Replacement
Super Soft rubber face mask for comfort, with two valves for easy breathing
Ideal for contractors working with wood, drywall, plastic, metal, fiberglass, pesticide, and more
Includes 2 Anti-Dust Cartridges
Replacement cartridges are avaiable from our store: Anti-dust, Anti-organic vapors, Anti-spray paint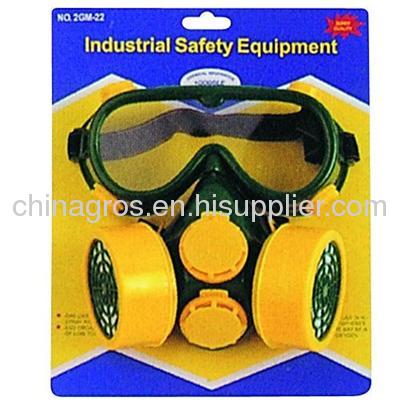 Masks and Filters are all New in excellent condition. Each comes with a color box.
Masks are designed for NBC(Nuclear, Bilogical,Chemical),warfare protection in case of attack. Designed for general population,this mask is simple to use by someone without military training(Military gas masks are designed for trained military personnel and have different filters for different tactial situations.)
Factory sealed filter is for Nuclear(Fallout),Chemical(Nerve gases and aerosols) and Biological Agents(expamples-Smallpox,Anthrax,Plague,Ebola,etc). Close fitting soft rubber with excellent respiratory protection, compatible with safety helment or goffles.
Applicable to organic gases and organic vapors, benzene and its homologue, gasoline, acetone, carbon disulfide, ether, etc. Long-term use can effectively prevent the poisonous gas against the human body.
Every vehicle,office and home should have one of thees for each person to protect against bilological disaster,nuclear or explosion,chemical spills or fumes.