The NdFeB material has more advanced properties and multi-polar magnetization, which can make the same size motor generates larger torque or the same powder motor owns more ingenious volume.
So it meets the development demands of the " small, light and thin design" of the motor industry. with these properties, the NdFeB magnets are widely being used in modern advanced industry and high-technology products.
The NdFeb is being widely used in aviation, spaceflight, electron, mechanism, meter and medical treatment field, etc.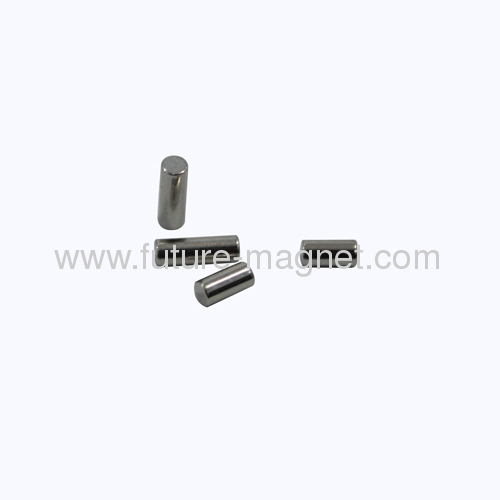 Strong sintered NdFeB magnet cylinder
1)Raw materail:Sintered Neodymium-Iron-Boron (NdFeB)
2)Garde:N35-N52,N35M-N48M,N35H-N45H,N33SH-N42SH,N30UH-N40UH,N30EH-N35EH.
3)Shape:Disc,block,cylinder,ring,bar,sphere,tile etc.size according to customer's request.
5)Coating:Ni,NiCuNi,Zn,Black Expoxy,Black Nickel,Ag,AU,etc .
6)Application:Acoustics,Motors,Windmill,Transportation,IT industryequipments,Home appliance,Loudspeaker,,Communication etc.
7)shipment way:By Sea/air/express are available
Magnetic Properties of Sintered NdFeB Magnets
Grade

Remanence

Coercivity Force

Intrinsic Coercive Force

Max. Energy Product

maximum Operating Temp.

Br

Hcb

Hcj

£¨ BH £© max

mT

kGs

kA/m

kOe

kA/m

kOe

kJ/m3

MGOe

N27

1030-1080

10.3-10.8

≥796

≥10.0

≥955

≥12

199-231

25-29

80 °C

N30

1080-1130

10.8-11.3

≥796

≥10.0

≥955

≥12

223-247

28-31

80 °C

N33

1130-1170

11.3-11.7

≥836

≥10.5

≥955

≥12

247-271

31-34

80 °C

N35

1170-1220

11.7-12.2

≥868

≥10.9

≥955

≥12

263-287

33-36

80 °C

N38

1220-1250

12.2-12.5

≥899

≥11.3

≥955

≥12

287-310

36-39

80 °C

N40

1250-1280

12.5-12.8

≥907

≥11.4

≥955

≥12

302-326

38-41

80 °C

N42

1280-1320

12.8-13.2

≥915

≥11.5

≥955

≥12

318-342

40-43

80 °C

N45

1320-1380

13.2-13.8

≥923

≥11.6

≥955

≥12

342-366

43-46

80 °C

N48

1380-1420

13.8-14.2

≥923

≥11.6

≥876

≥12

366-390

46-49

80 °C

N50

1400-1450

14.0-14.5

≥796

≥10.0

≥876

≥11

382-406

48-51

60 °C

N52

1430-1480

14.3-14.8

≥796

≥10.0

≥876

≥11

398-422

50-53

60 °C