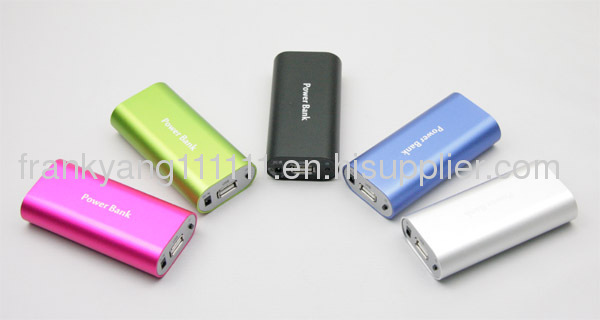 Product Description:
External Power Bank are light and small portable mobile power products, it can be use in many terminals, mainly suitable for MID(5V), E-Book, Mobile phones, PMP, digital camera and MP3 / 4 / 5 products. It is with plug and play design. Users can use it without having to wait at any place at any time. External Power Bank is a total solution of external powers for a lot of digital terminals.

Packing List:
External Power Bank: 1 piece;
DC Input adapter: 1 set;
Phone charger adapter: 1 set;
USB cable: 1 piece;
User Manual: 1 piece;
Warranty card: 1 piece.
Outstanding Feature:
High Current Output: External Power Bank can export 1A current. It is best to supply express charge for smart mobile phone.
Extremely Large Capacity: 4500Mah/5200Mah Lithium Batteries inside. The external power bank is 3-4 times for smart mobile phone; is 1 times for iPad2.
Express input: The DC input adapter is 5V. The DC input adapter is good for express input for external power bank.
Safety Protection: Intelligent protection circuit design provides over-charge, over discharge and short circuit protection;
Good quality Batteries: The 4500Mah/5200Mah Lithium Batteries are made in the first-class factories, steadily and low-heat. The frequency of use is more than 500 times.
Intelligent Control: Microcomputer monitors and display electricity.
Top Grade Design: Fashion design using industrial aluminum alloy material. Feel exquisite, smooth and comfortable. It is firm, small and easy to carry.
Product Specifications:

Description

Working State

Standby State

Temperature

-0℃~~+40℃

-20℃~~+60℃

Humility

8%~~90%

5%~~95%

Seismic

800g/2ms

Weight

145g

Mechanic Structure

Entirety Structure

Battery

Lithium Battery

Battery Spec

18650

Built-in Battery

2 pieces

Input

5V

Output

5V/1A

Charging Time

4~~6 hours

Power Supply

16.28-19.25Wh

Applicable Models

MID, mobile phones, PMP,digital camera

and MP3 / 4 / 5 products.