AC Axial Fan ,254x89 mm axial fans, AC tube axial fans,AC centrifugal fans
1.saving energy.
2.strong wind power.
3.make low noise and light weight.
4.reasonable structure and the strong suction.
Manufacturer of AC cooling fans & accessories, including cooling fans, AC fans, axial fans, AC tube axial fans, AC centrifugal fans, cross flow fans, axial flow fans, external rotor fans, brushless fans, CPU & PC cooling fans, centrifugal blowers, centrifugal impellers, axial blowers, radial fans, motor fans, fan guards, plastic guards, fan filters, duct rings for centrifugal fans.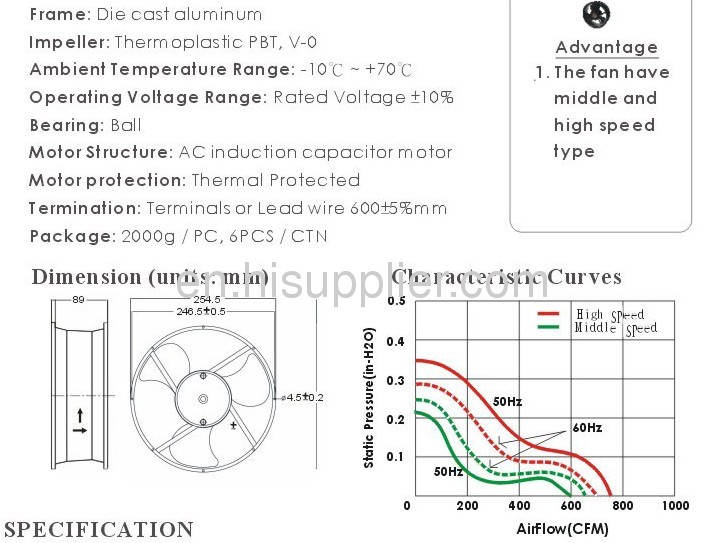 Description :
1. Frame: die cast aluminum.
2. Impeller: thermoplastic PBT, V-0.
3. Ambient temperature range: -10℃ ~ +70℃.
4. Operating voltage range: rated voltage ±10%.
5. Dielectric strength: 1500VAC for one minute.
6. Bearing: ball.
7. Motor structure: AC induction capacitor motor.
8. Motor protection: thermal protected.
9. Termination: terminals or lead wire 600±5%mm.
10. Package: 2000g / PC, 6PCS / CTN.
Specification :
Model: P1259MBT(L) Safety Std.: UL Voltage(V): 115 Freq.(Hz): 50/60Current(A): 0.22/0.23 Power(W): 23/26 Speed(RPM): 1400/1600 AirFlow(CFM): 600/665 Pressure(in-H2O): 0.22/0.25 Noise(dB): 50/52