MA series Stainless Steel Mini Cylinder


Features:

1.Corrosion-resistant: the stainless steel material barrel with a great corrosion and resistance and the special surface treatment could guarantee adurable working life

2.Anodized aluminum body for superior wear resistance

3.A choice of stroke length, and a variety of catalogue options

4.Smart design,save the space.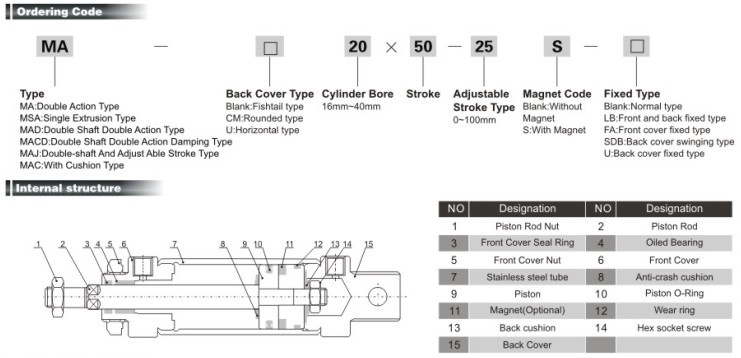 Specifications:

Bore(mm)
16
20
25
32
40
Motion Pattern
Double action or Singleaction
Working Medium
Air
Fixed Type
Normal type:LB/FA/SDB/U type
Operating Pressure Range
0.1-0.9MPa
Ensured Pressure Resistance
1.35MPa
Operating TemperatureRange
-5-70oC
Operating Speed Range
50-800mm/s
Buffer Type
Standard Type
Anti-crash cushion
Damping Type
Adjustable cushion
Pipe Size
M5*0.8
G 1/8"
G 1/8"
G 1/8"
G 1/8"

Other Mini Cylinders are also available for you:

MA (ISO 6432) series Stainless Steel Mini Cylinder

MAL series Aluminum Alloy Mini Cylinder

CM2 series Stainless Steel Mini Cylinder(SMC type)

CJ2 serie Stainless Steel Mini Cylinder(SMC type)

Our company also can provide other pneumatic cylinders as below,

1.DNG ISO15552 Standard cylinder

SI ISO6431 Standard cylinder

DNC ISO6431&VDMA24562 Standard Cylinder

ADVU ISO6431 Compact/Thincylinder

2.Standard cylinder:SC/SU,MB,CA1

3.Compact cylinder:SDA,CQ2

4.Double-shaft cylinder:TN,CXS

5.Free installation cylinder:CU

6.Slide bearing cylinder:STM

7.Three-shaft cylinder:MGP

8.Stopper cylinder:RSQ

9.Clamp cylinder:XCK

10.Rotary cylinder:MSQ

11.Rodless cylinder:CY1

12.Air gripper:XHZ2/XHC2,XHL2,XHT2

More information and details,you cancontact us and visit our website.

If you have the nonstandard products want to design,don't hesitate to contact us.

XCPC is your good choice in Pneumatic!