Brief introduction:
The Hitachi EX100C01 series cartridge type pressure control main service valve are used for the Hitachi EX100 excavator machinery system as controlling the system pressure and release the pressure when the real pressure reaching the pre-setting pressure.
The pressure control main service valve is easy to produce high - frequency noise is mainly due to the performance of the pilot piston is unstable, namely, the front chamber of the pilot valve pressure high frequency oscillation caused by the noise of the air vibration generated . The main reason as follows:
The oil mixed with air, in front of the valve cavity to form the cavitation phenomenon caused by the high - frequency noise, at this point, it should be promptly drained of air and prevent outside air to re-enter.
The pressure control valve causes excessive wear due to frequent open and closed, and the valve can not seal the needle valve cone and valve seat, causing the pilot flow instability, pressure fluctuations and noise it should be promptly repaired or replaced.
The pressure control valve spring fatigue deformation caused by the instability of its regulator function makes the pressure fluctuations and leads to big noise, the relative spring should be replaced.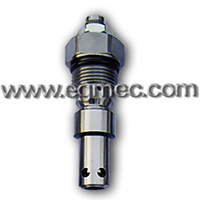 Hitachi Excavator EX100 Cartridge Type Pressure Control Main Service Valve