Product Name: 840 points solderless breadboard

board size(cm): 17.3*6.4*0.85
1 Terminal Strips, Tie-point 640;
2 Distribution Strip,Tie-point 200;
Paper Box;
1pc/ set
ABS plastic material
Completely reusable
Coloured coordinates for easy component placement
Accepts a variety of wrie sizes(AWG:20-29)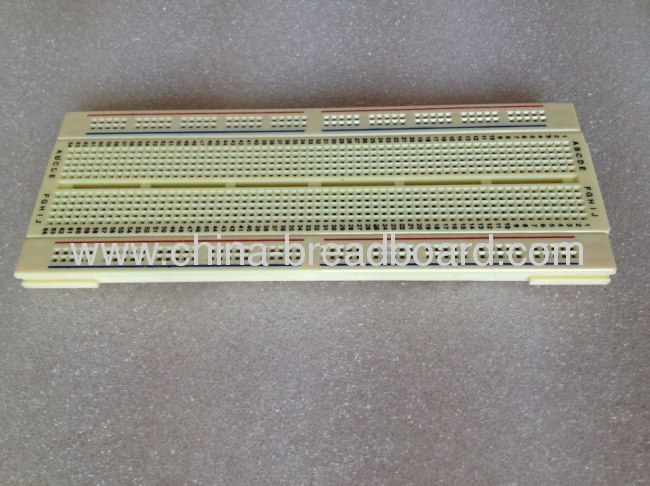 Compared with buckle type, this is different. It is slide type. The distribution strip slides into the terminal strips. Of course, the function is the same, playing a role of connecting.
The breadboard is a little yellow. It is nice. In each row, there is a Arabic numeral. This makes you easy to fix position before place a component on the board.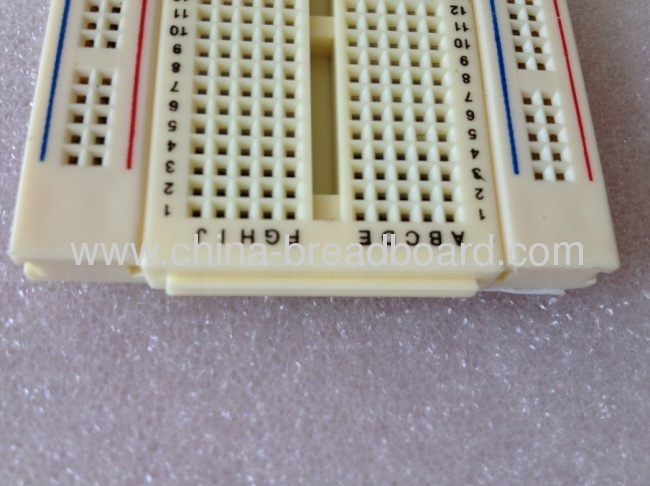 The hole is square. Inside the holes, it is spring clip. It is flexible. It accepts the electronic components which the pin is between AWG 20 and AWG 29. And the inside metal is with good quality. It can bear being inserted many times.
About package, first, the breadboard and wire will adopt skin package. Second, 200 pieces of ZY-128 will be packed into a carton box. Of course, this is our ordinary package. According to different shipping way, we will adopt the most suitable way.
Below is the detailed packing information:
| | | | | |
| --- | --- | --- | --- | --- |
| Item No. | G.W. (KG) | N.W. (KG) | Quantity (pcs) | Measuremnt (cm) |
| ZY-128 | 22.2 | 21.7 | 200 | 41*27*32 |
* We are manufacturer. Our factory accepts ODM and OEM. The engineer will help do the design as you require. Of course, if you send us the drawing, it is appreciated.

* If you need your own logo put on the product, we can do it. Only send us the logo, that is ok.

* If you need you own package, we can help make the package. And if you send us the package, that is also ok.