The Rexroth 4WE6 series Solenoid Operated Directional Valve has three working position, four oil ports.
There are two solenoids of the valve, which we call A and B solenoids. The spool is on the central of the valve housing if A, B solenoids are de-energized, the A solenoid are pushing the spool end to B position when the solenoids energized and the B solenoid forces the spool to A position when it energized, therefore, there are three position while the A or B solenoids energized or de-energized alternatively or stop supply the electric power.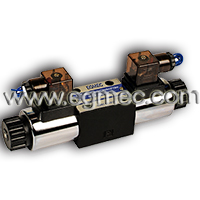 Rexroth 4WE6E, 4WE6J, 4WE6H,4WE6G, 4WE6U 4WE6Y, 4WE6M Solenoid Operated Directional Valve


If the valve needs to stop, de-energized on both sides of the solenoids, the valve spool should be in the middle position of the valve housing. If the valve symbol is E (O) type, it is in central closed (The cylinder ports into the oil channel blocked),it is unable to drain the oil to tank by outlet ports, which will cause the cylinder to stop in the middle position, but the solenoid valve will be leaked and the cylinder usually does not long stopped at the exact position.