Item No.:BF-4001
1,
Plastic water micro valve
for micro irrigation,
2, Specification is Φ16mmXΦ16mm
3, Butterfly switch is easy to twist to adjust the water flow and shut water on/off
4, Ball Valve make sure the water pass fluent when work or leak-free when not work.
5, Barb joint can connecting hose firm and leak-free.
6, Package is in bulk.
7, Used in the micro irrigation to joint 2pc 16MM micro irrigation hose and adjust the water flow,shut on/off water too.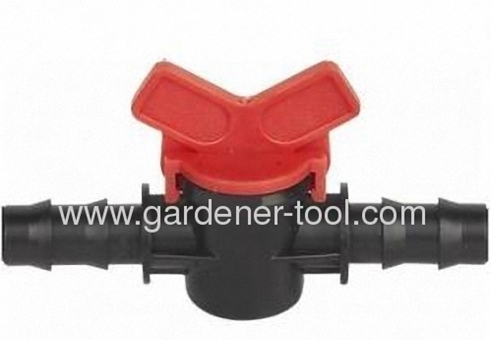 Do you still to flood the farm to irrigate?Do you know it waste most of water?It not only waste water today when world lack of water,also water you time and damage your farm.
Please save water,and consider to use micro irrigation system to water enough water to plant what they need.
This plastic water micro valve can joint micro water hose together,and adjust the water flow,control the water shut on/off.It is the basic valve in the micro irrigation.
~~~~~~~~~~~~~~~~~~~~~~~~~~~~~~~~~~~~~~~~~~~~~~~~~~~~~~~~~~~~~~~~~~~~~~~
MOQ is 5000pcs for factory green color.
Delivery time is 25 days since order in general.If tight need,we can provide little store for some customers..
Payment is TT or LC at sight.Another payment can be accepted if safe.
Customized color is welcome with pantone color code.
Another customized package is welcome with design as gift box,display box and so on.