Products name:Star Fiber Star Mop Pro Household Microfiber Mop Kit with Two Microfiber Mop Pads by Aquastar with BLUE Base
Our awesome original Star Fiber Star Mop Pro Household Microfiber Mop Kit with Two Microfiber Mop Pads by Aquastar is all you need to get your home, office or business clean in minutes!
As Seen On TV brand! You get one Starfiber Star Pro Eco Wet/Dry pad and one Super White Fuzzy Star Fiber Starmop Pro Dust Pad! We proudly make our mop frames in the U.S.A.! The all new Stafiber Green Trim Eco pad is the premier pad for best mopping action ever! Made of 100% top quality Microfiber. This is the same exact mop that compares to Rubbermaid Reveal Mop, Bona Kemi Spray and Dust Mop, Don Aslett as seen on T.V. Mop and many others!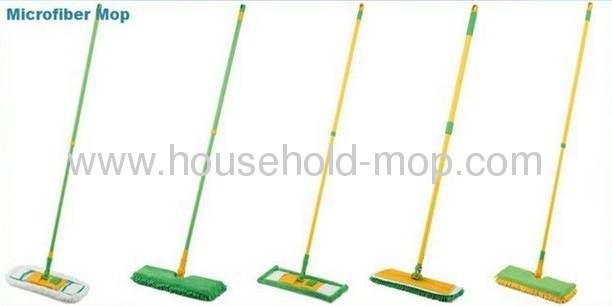 You have seen this mop all around the country at local fairs, conventions and retailers alike! The Starmop Pro can be used wet for polishing and cleaning floors, and for dry dusting daily.
Our Starfiber Pro Microfiber pads are the highest quality Microfiber on the market. The mop's special design allows you to clean in hard-to-reach places such as under furniture and in between small, narrow spaces.
Our mop is excellent for cleaning hardwood floors, wood laminate, Pergo Wood, Any tile, linoleum, marble, formica, stone, painted surfaces and so much more.
Picture of Star Fiber Star Mop Pro Household Microfiber Mop Kit with Two Microfiber Mop Pads by Aquastar with BLUE Base
The mop head measures 15"x4" when equipped with pad, enabling it to cover large areas in a short amount of time. The flat, rectangular pad attaches to the mop head with Velcro, making it easy to detach the pad to throw it in the laundry or switch between dry pads and wet pads.
The telescopic mop handle is made of sturdy, lightweight aluminum. The weight of the entire mop is less than one pound. Microfiber mops are so effective that they can easily clean using only water, making dangerous chemicals unnecessary. If you do have a favorite cleaner you wish to use for antibacterial purposes, it will simply make the mops even more efficient.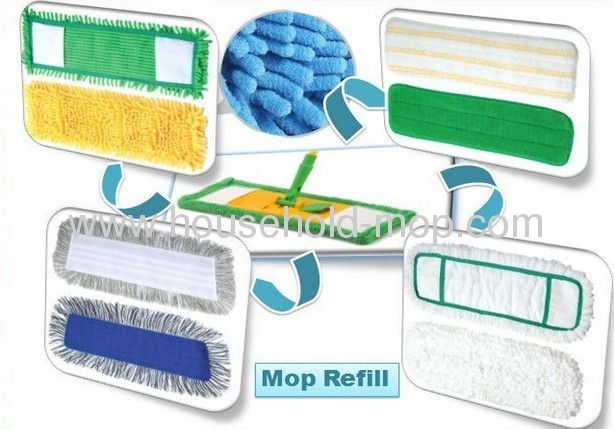 There are two types of Microfiber mop pads, one each for wet and dry use. The pads can be used interchangeably, but they are designed for optimum performance to be used either one way or the other. Because of this, the mop head is designed with Velcro so that it is simple to adjust from one type of pad to the other.
Another benefit of the Microfiber mop pads is that they can be laundered in home washing machines. Simply remove the pad from the mop head and toss it in the washing machine. You can have a fresh mop pad every time you clean! Microfiber mop heads can be cleaned this way hundreds of times without losing their effectiveness. Hint...buy an extra set of pads to use while one is in the laundry.
Item
Color
Name
item
AJ026B
Grey
Star Fiber Mop Household Microfiber Mop Kit
Product Detail
Mop Pole
Pole Material
Telescopic steel pole with plastic coating
Pole handle Material
PP
Pole Length(Max,Min)
130cm;70cm
Mop Head
Mop head base material
ABS
Mop head base size
40cm*10cm
Mop Head Cloth
ClothMaterial
Cotton
Cloth Size
45cm*15cm
Joint(Pole with head)
Joint Style
Inner retracting button
Rotating
360°
Joint Material
PP
MOQ
3000
Packing Detail
Packing Method
1 PC product include
1 mop pole+1mop head+1 mop cloth
Export Brown Ctn
75*43*23
PCS/CTN
20
Loading Weight
N.W/CTN
14.48kg
G.W/CTN
16.68kg
Loading Quantity
20'FT
7010
40'FT
15099
40'HQ
17796
Our flat Pad style Microfiber Mop vs. Traditional Swishing-String loop style Mop: Microfiber mops are faster and cleaner. Mop pads are large to cover a substantial surface area in a short amount of time, saving you time. Microfiber mops reduce bacteria by 99% compared to only 30% with a loop mop, giving you a cleaner and safer room.