Product Name:
DC24V 5/2 way M5 1/8" Solenoid valve DIN43650C 4V110-06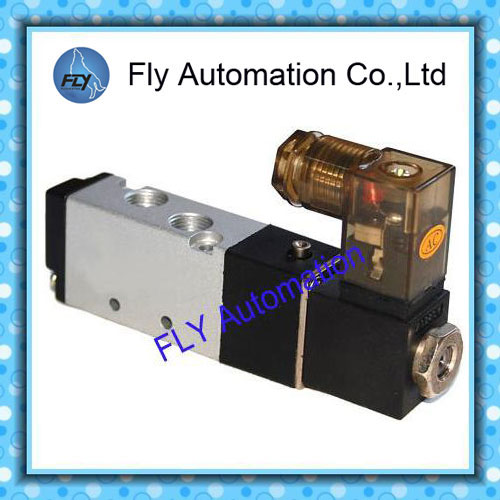 Features:
1.Pilot-oriented mode: optional for internal or external;
2.Structure in sliding column mode: good tightness and sensitive reaction;
3.Three position solenoid valves have three kinds of central function for your choice;
4.Double control solenoid valves have memory function;
5.Internal hole adopts special processing technology which has little attrition friction, low start pressure and long service life;
6.No need to add oil for lubrication;
7.It is available to form integrated valve group with the base to save installation space;
8.Affiliated manual devices are equipped to facilitate installation and debugging;
9. Several standard voltage grades are optional.
Specification:
Ordering Code
4V110-M5 4V120-M5
4V130C-M5
4V110-06 4V120-06
4V130C-06
4V130E-M5
4V130E-06
4V130P-M5
4V130P-06
Fluid
Air( to be filtered by 40μmfilter element)
Acting type
Piloted
Port size
ln=Out=Exhaust=M5
ln=Out=Exhaust=1/8"
Orifice size
5.5mm2
5.0mm2
12.0mm2
9.0mm2
(Cv=0.31)
(Cv=0.28)
(Cv=0.67)
(Cv=0.50)
Valve type
5port 2 position
5port 3 position
5port 2 position
5port 3 position
Operating pressure
0.15~0.8MPa(21~114Psi)
Proof pressure
1.5MPa(215Psi)
Temperature ℃
-20-70
Material of body
Aluminumalloy
Lubrication
Notrequired
Max.frequency
5 cycle/sec
3cycle/sec
5cycle/sec
3cycle/sec
Weight
4V110-M5:120g 4V120-M5:175g
200g
4V110-06:120g 4V120-06:175g
200g
1. PT thread , NPT thread and G thread are available;
2. It can not stop in the midway of lubricating. Lubricants like ISO VG32 or equivalent are recommended.
3. The maximum actuation frequency is in the no-load state.
Inner Structure: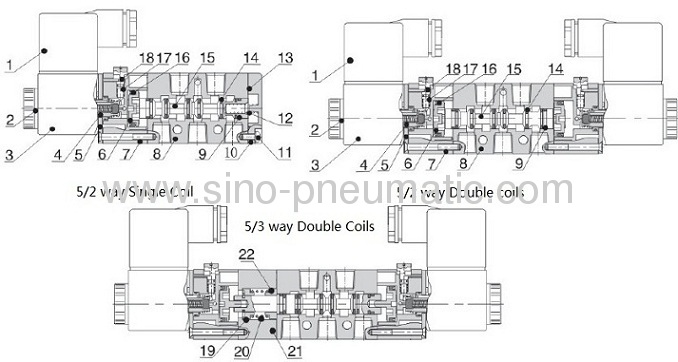 | | | | |
| --- | --- | --- | --- |
| NO. | Part Name | NO. | Part Name |
| 1 | Connector | 12 | Spool spring |
| 2 | Coil nut | 13 | Bottom cover gasket |
| 3 | Coil | 14 | Spool O-ring |
| 4 | Armature | 15 | Spool |
| 5 | Fixed plate | 16 | Piston O-ring |
| 6 | Piston | 17 | Override spring |
| 7 | Pilot kit | 18 | Manual override |
| 8 | Body | 19 | Spring holder |
| 9 | Wear ring | 20 | Return spring |
| 10 | Bottom cover | 21 | Side cover |
| 11 | Fixed screw | 22 | Spring holder |
Coils specification:
| | |
| --- | --- |
| Item | Specification |
| Standard voltage | AC220V, AC110V, AC24V. DC24V, DC 12V |
| Scope of voltage | AC: ±15% DC: ±10% |
| Power consumption | AC: 3.5VA DC : 3.0W |
| Protection | IP65 ( DIN40050 ) |
| Connector | DIN43650B |
| Temperature classification | B Class |
| Electrical entry | Terminal ,Grommet |
| Activating time | 0.05 sec and below |
Dimensions: