Rexroth 4WE10C, 4WE10D, 4WE10A, 4WE10B, 4WE10Y wet-pin dc/ac solenoid directional valve is usually keeping the spool on the central of the valve housing when no external thrust, this position is called the intermediate position, referred to as the median. The middle position of the solenoid valve interface connectivity is called the median function.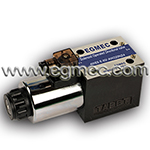 Rexroth 4WE10C, 4WE10D, 4WE10A, 4WE10B, 4WE10Y Wet-Pin DC/AC Solenoid Directional Valve

The principle of operation of the solenoid valve is to rely on the inside of the valve body spool in the valve housing and from the relative motion through the cover on the oil port or switched between the solenoid valve within the oil port cut off, turn off of hydraulic oil and directional control. Median position is that the solenoid valve three way valve is not energized, the directional spool valve is not external forces movement oil port configuration.
The different median function solenoid valve will directly affect the working conditions of the implementation of the components of the hydraulic system. Therefore, conducting hydraulic system design, based on the actual condition of hydraulic system, to select the most appropriate of the three four - way solenoid valve, to meet the various requirements of the performance, efficiency, and stability.