four-head corner combining machine
Performance features:

1.This machine is a new model developed by our company; it is the high grade dedicated device for aluminum doors and window capable of completing the corner punching and riveting combination of four corners.

2. The body design is scientific and reasonable with particular reinforcement; all adopt thicken square pipe welding so that the corner combination machining is precise and stable

3. Large plunger type hydraulic system is adopted, stable in pressure,

4. The electric control box is placed independently, convenient in movement and easier in real-time monitoring of corner combination quality.

5.The lateral movement adopts imported original flat square rack and the driving adopts the imported original high led roller lead-screw, extremely high in precision, thus ensure the corner combination quality. Servo drivers, servo-actuator and man-machine interfaces adopt the imported original products and the auxiliary brakes are added, precise and reliable.

6.Min. machining range is up to 480 * 480mm, comprehensively meeting the machining requirement of door and window industry.

7. The clamping device is capable of moving forward and backward automatically, convenient in operation; the window size is flexible in adjustment

8.The NC system can realize full-auto positioning and four corners auto pretension, convenient and quick

9.The corner combination cutter is convenient in omnidirectional adjustment to adapt to the requirement of different profiles

10. Four corners are combined into the frame at a time; high standard flexible pressurization is adopted to ensure the synchronized pressurization of corner combination cutter so that the quality of frame combination has the
controllability.

four-head corner combining machine
Technical parameters:

Power supply -------------------------------------------------------380V 50HZ
Rated power---------------------------------------------------------7.5KW
Rated oil pressure ------------------------------------------------15MPA
Working air pressure----------------------------------------------0.5-0.8MPA
Air consumption----------------------------------------------------0.45L/ONCE
Tank capacity------------------------------------------------------- 60L
Movement travel of corner combination----------------------0-50MM
Max. dimension of frame combination-----------------------3000MM×1800MM
Min. dimension of frame combination-----------------------480MM×480MM
Width of suitable profile------------------------------------------93MM
Diagonal line error of forming window---------------------- ≤1MM
Error of butt seam-------------------------------------------------≤0.15MM
External dimension -------------------------4700×2200×2500
Weight----------------------------------------- 2500KG

four-head corner combining machine
real picture:
four-head corner combining machine
product picture: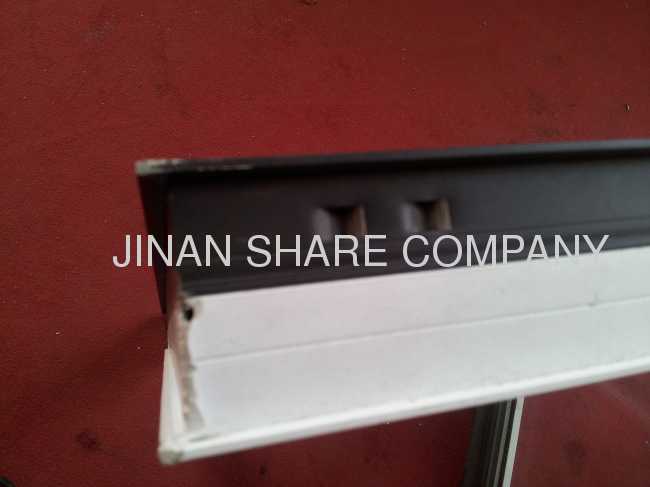 four-head corner combining machine
ce certificate: