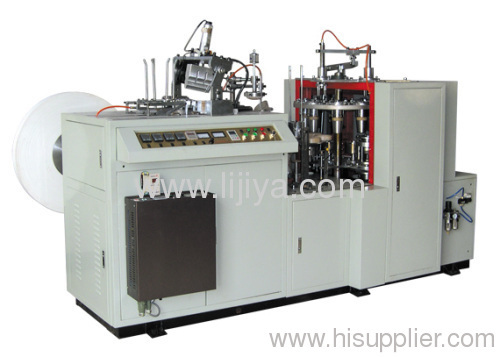 single side PE coated paper bowl machine is
also the automatic environmental machine with multi-running positions.
This type machine is used to making bigger paper cups from 18 ounce to 60 ounce which can not be maken by paper cup machine. Like the WY-WA Single side PE coated paper cup machine,this type machine mainly produce one side PE coated paper bowls.
This machine also runs a whole procedure of paper-feeding , bowl-fan-wall sealing, oiling, bottom punching, heating, rolling, rimming, rounding and tripping. It is an idea equipment of producing soup bowl, bigger paper cups and other large food cone-shaping containers.

Main Technical Data:
1.Paper Bowl Sizes: 20,25,30,35,40,45,50,60 OZ or other sizes.
2.Row material: Single side(one side) PE(polyethylene) film coated paper
3.Suitable paper weight: 170--450 gsm (Recommend 200--350 gsm)
4.Speed of making paper bowls: 35--45 pcs per minute
5.Limit of temperature control: 0--400 Centigrade
6.Total power: 6 KW
7.Power source: 380 V,220V 50 Hz,60 Hz or other Customer needed
8.Whole machine weight: 2300 kg
9.Appearance size(L x W x H): 3000 x 1300 x 1600 mm

Note:We can make the paper bowl machine suitable for your requirement.