Description:
1.Our control chip is made in the USA.The combination of DSP and FPGA produces powerful computing capabilities.It has extremely fast data collection and can process large amounts of information and perform various operations stmultaneously.Distinguished performance to kinds of colorful products in graininess
2.300mm wide chute which is smoothness, abrasion-resistance, resistance to wear and tear and corrosion-resistance is built with a special anodizing process and was designed to meet specifications required for many applications around the world.
3.CCD Camera:A Japanese high-end 2048 pixel CCD chip camera can identify spots as small as 0.04mm.When coupled with intelligent algorithms,the optical design provides a more accurate color selection.
4.Ejectors: Matrix from Italy.The ejectors contain a high-frequency electromagnetic solenoid valve that operate with a 14 billion millisecond precision and a consistency of near-zero error to ensure high accuracy.
5.Adopted with high-brightness,lasting stability and longer life-time LED light which not only help save more power but also reduce cost.
6.Professional researching and developing team have researched a special program which make the machine easily distinguished different color with the program,such as red,blue,green,yellow and so on.the program can ensure the sorter have a distinguished sorting effect.
7.Large LCD touch screen,a friendly user interface, easy to learn and operate.

Competitive Advantage:
1.2048 pixel CCD camera and photo processing technology
2. Recognition accuracy up to 0.04mm
3. Passed CE, UL, ETL, ISO9001
4. LED TFT real 8.4 inch screen
5. Self checking system

Workshop of long grain rice CCD color sorter


Flow chart of long grain rice CCD color sorter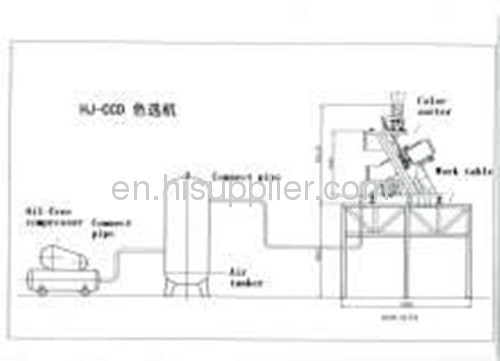 PARAMETER OF COLOR SORTER
| | | | | | |
| --- | --- | --- | --- | --- | --- |
| ITEM.NO | HJ-C2R | HJ-C3R | HJ-C4R | HJ-C5R | HJ-C6R |
| Machine weight(kg) | 850 | 900 | 950 | 1050 | 1150 |
| Channels | 126 | 189 | 252 | 315 | 378 |
| Cameras | 4 | 6 | 8 | 10 | 12 |
| Light source | LED light | LED light | LED light | LED light | LED light |
| Pixel of camera | 2048 | 2048 | 2048 | 2048 | 2048 |
| Ejector | Matrix | Matrix | Matrix | Matrix | Matrix |
| CCD chip | Japan | Japan | Japan | Japan | Japan |
| The smallest size recognition | 0.04mm | 0.04mm | 0.04mm | 0.04mm | 0.04mm |
| Sorting accuracy | >99.95% | >99.95% | >99.95% | >99.95% | >99.95% |
| Rejection ratio | >10:1 | >10:1 | >10:1 | >10:1 | >10:1 |
| Host power | 1.0 | 1.2 | 1.4 | 1.6 | 1.8 |
| Air pressure | ≥0.6Mpa | ≥0.6Mpa | ≥0.6Mpa | ≥0.6Mpa | ≥0.6Mpa |
| Air consumption (L/min) | 500-1500 | 600-2000 | 700-2500 | 800-3000 | 850-3500 |
| Radiating mode | Wind cooling | Wind cooling | Wind cooling | Wind cooling | Wind cooling |
| Power supply (Voltage/HZ) | 220V/50HZ | 220V/50HZ | 220V/50HZ | 220V/50HZ | 220V/50HZ |
| Package Material | Wooden case | Wooden case | Wooden case | Wooden case | Wooden case |
| Warranty | 12 months | 12 months | 12 months | 12 months | 12 months |

Drawing of working table for Long grain rice CCD HJ-C2R color sorter