Product name :steam mop max microfiber bare floor pads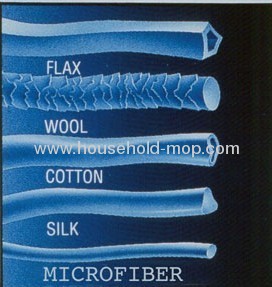 Details show
1.Mop cloth:chenille
2.Size:42*15cm
3.Weight.90g
4.Placstic frame size :39.5*9cm
5.Pole: steel Diameter φ19-φ22mm
6.Lenghth telescopic extention from 67cm to 120 cm
7.Pole Material:Steel
8.Color:red,blue,orange ,purple,white,green
9.Dehydration rate:90%-100%
10.Hygroscopy:less then 10's
11.Pole color:Grey or white or same with the cloth color
12.Corrosion resistance:Level 10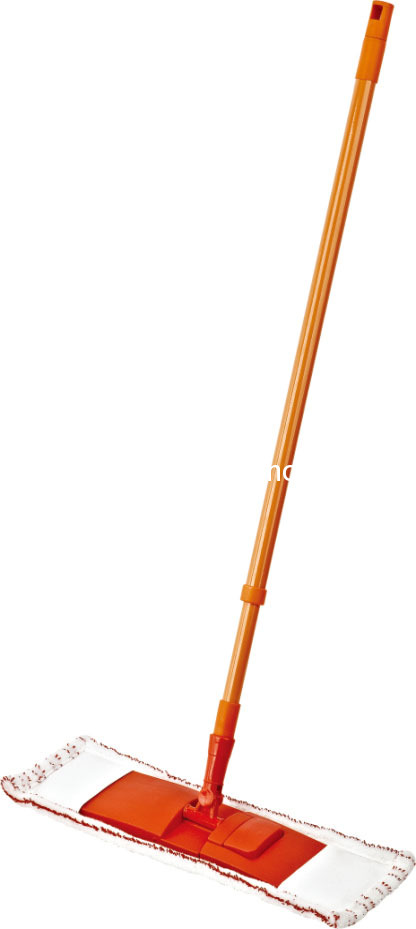 PRODUCT DESPRITION

We have more than 10-year experiences on cleaning products. We are a typical China supplier and have worked for home products. We also have factories in China and Thailand in order to meet customers' needs.

Name

Value

Brand

Karanfil steam mop max microfiber bare floor pads

Production Capacity

500000 Piece/Pieces per Month

Material

Chenille and microfiber

Terms

FOB Ningbo

Place of Origin

China

Feature

ECO-friendly

Payment terms

30% deposit before we make the production, 70% balance paid after we finished the order.

Order delivery

25-30days after receiving 30% deposit

Packing

1pcs/polybag,50pcs/inner box,1000 or 500 pcs/out carton

Shipment means

by sea, by air, by express etc.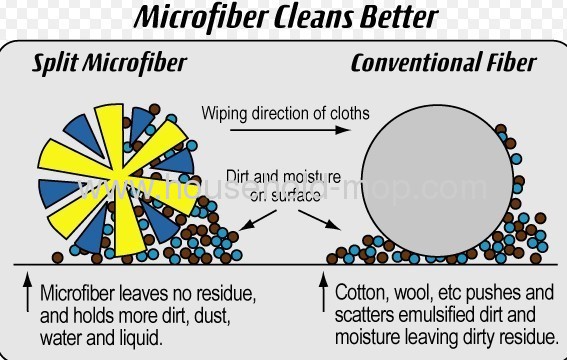 How to Clean Tile, Wood and Vinyl Floors

Ceramic-tile floors can be cleaned easily with nothing but warm water, but be sure to sweep or vacuum first to remove any loose soil or grit. Never use a sponge mop to clean ceramic-tile floors. It will pull the dirt right into the grout tracks. This makes the floor more difficult to clean. A micro-fiber mop picks up all the dirt that a sponge mop leaves behind. Pour the ingredients into a bucket and use a rag or micro-fiber mop to clean. If you do use a rag and the on-your-hands-and-knees method, be sure to wipe in a circular motion across the floor. Don't forget the cabinets and baseboards. If you have really dirty grout, use a brush.
Use boiling water and two teabags to clean hardwood floors. The tannic acid in tea creates a beautiful shine for hardwood floors. Let two teabags steep in the boiling water for a few minutes. Pour the tea into a bucket. Take a soft cloth and wring it out in the tea. The cloth merely needs to be damp, not soaked. This will enable the floor to dry quickly. Wash the floor and be ready to be amazed by the sheen.
If there are scratches that stand out after cleaning the hardwood floor, simply take a crayon the color of the floor and rub it on the scratch to fill the gap. Turn a blow dryer on high, heat the area where the crayon was applied and buff it with a soft cloth.
Clean the vinyl floors. Mix Borax in a bucket of warm water and wash the floor.
Remove hairspray residue from hard surfaces with a solution of one part fabric softener and two parts water.
For stains on concrete floors, try laundry detergent, pre-treat stain solutions or dishwasher detergent. Let the solution soak for about 30 minutes then scrub.

How to Clean Floor Grout
Many stains are on the surface of the grout and can be removed with sandpaper. Just fold the sandpaper into a crease, and work it back and forth along the grout line. If sandpaper doesn't work, you may have better results by applying a pencil eraser.
If sandpaper or an eraser fails to remove the stains and dirt, try an over-the-counter grout cleaner -- or create a similar solution from household bleach and water. Squirt or pour the solution onto the grout, and scrub with a toothbrush. Make sure the area is well ventilated, and wear rubber or latex gloves when working with bleach.
If bleach doesn't do the job, you may need to remove and replace the grout. Use a grout-removal tool or a rotary tool with a carbide tip. After you install new grout, seal it with a grout sealer to reduce the likelihood of future stains setting in. Reapply sealer once every two years.
If you have at least one tile, linoleum or hardwood floor in your home, you, of course, want to take care of it and keep it looking great. A floor that's taken care of not only shines beautifully, but it lasts longer. Why? Because dirt and grime are abrasives. If you don't keep them off your floors, everytime someone walks across the floor, they'll actually wear the finish off. To keep this from happening, read this instructive article and find out how to mop a floor so clean you can eat off it!
Note: If the manufacturer of your tile, linoleum or hardwood floor has issued specific care instructions, then you should follow those. (Every Parquet wood floor I've ever washed required using a mop and a special cleaner, for example.) Otherwise, you should be able to use these instructions with fantastic results.
Hardwood Floors
Hardwood floors demand special care in order to keep them looking shiny and attractive. Since wood is a porous material, the rule of thumb is: the less water, the better. That means, hardwood floors should be mopped with a well-wrung out mop or soft rag.
First, clear the room of all small furniture and other items. Then, use a soft bristled broom to remove the larger dirt and debris; be sure to get inside corners, under counters, around toilet bowls, et cetera. (Even though many vacuum cleaners have a "bare" floor setting, never use this machine on hardwood floors as it can dent, scratch and gouge them.)
The next step, before you can mop a floor so clean you can eat off it, run a dust mop over your hardwood floor. This will remove any dust or lingering dirt.
If the floor is very big- larger than an average eight by ten foot room- or, if the floor is heavily soiled, you'll need more than a single bucket of wash water. But to start with, fill up a bucket with cool- never hot- tap water and mix in a mild cleaner that's suitable for most hardwood floors like Murphy's Oil Soap. Why not hot water? It can dissolve wax, for one reason. It can also cause your floors to streak.
Note: The best type of mop to use is a cotton string one. They can be heavy and hard to manage, though. Libman makes a lightweight Wonder Mop that has absorbent strips instead of strings. This mop is easy to dunk, wring out and push across any floor.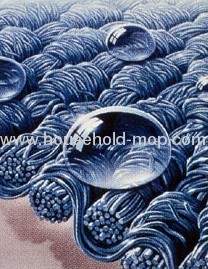 Dunk the mop into the bucket and wring it out well. Then, start in a corner of the room right up to the baseboard. To mop a floor so clean you can eat off it, you need to clean the corners and move along the baseboard by using a straight back and forth motion. Then, move away from the baseboard and mop an area approximately three by three feet square. Move your mop back and forth making sure to overlap each stroke as you go. As the mop head becomes soiled, flip it over from time to time.
To remove dried spills and messes, you'll have to work at them with the mop since you shouldn't use scouring pads on hardwood. Simply push down on the mop as you push it across the soil. You can use an old soft rag in the same way too.
Work your way across the room dunking, rinsing and wringing your mop as you go. Make sure you end up backing out of the room through an interior doorway so you don't get trapped inside. Allow the floor to air dry, and you're done cleaning your hardwood floor!
Tile and Linoleum Floors
To mop a tile or linoleum floor so clean you can eat off it, the process is pretty much the same as a hardwood floor, with a few exceptions. First, you can use a scouring pad to remove dried spills and messes. Second, you should use a floor cleaner such as Spic-n-Span or Lysol brand. Top Job is a heavy duty cleaner that can tackle the dirtiest of floors. However, since it contains ammonia, it can take off the wax, so keep that in mind. And, of course, don't forget, you can also add a half cup of good ol' fashioned vinegar to a full bucket of cool tap water too!