CU series Free installation pneumatic cylinder/free mount cylinder features:
Equivalent to SMC CU Series Pneumatic Cylinder, with the same appearance.
Compact design, Free mouting.
Bore size(mm): 6, 10, 16, 20, 25, 32.
Double acting, Single/Double rod
Single acting, Single rod, Spring return/extend
Rubber bumper.
Built-in magnet is optional.
Cylinder kits, barrel, piston is available.
Specification:

Bore size(mm)
6
10
16
20
25
32
Action
C(D)U-D
Double acting, single rod
C(D)U-S/T
Single acting, spring return/extend
Fluid
Filtered compressed air
Proof pressure
1.05MPa
Working pressure
C(D)U-D
0.12~0.7MPa
0.06~0.7MPa
0.05~0.7MPa
C(D)U-S/T
0.2~0.7MPa
0.15~0.7MPa
0.13~0.7MPa
Working temperature
~10~70 degree
Port size
M5*0.8
1/8"
Piston rod thread(male thread)
M3*0.5
M4X*0.7
M5*0.8
M6*1.0
M8X1.25
M10*1.25
Cushion
Rubber bumper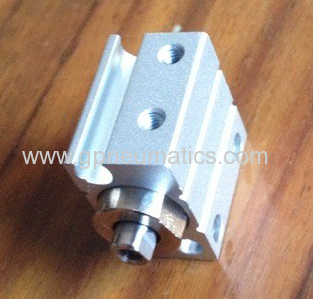 Shipping:

You can choose by sea or by air or just choose deliver by express, we can choose the most competitive price and best service forwarder for you based on your requirement.
All package will be inspected before shipping.
Protective packing material will be added in your package to avoide products been damaged easily in transit.
Please allow 1-2 working days handling time for payment processing and shipping.
Deliver information will be informed in 24 hours except weekends and holidays.
Buyers will be informed in 24 hours if there are any problems with their order.
For faster service, please update your correct shipping address before sending payment.
Please contact us if you have any questions on shipping.