Product name: PY12oz Floor Mop Set c/w Head Holder & Metal Handle

Microfiber chenille cleaning products , 4 12" mop pads and a telescopic pole. Get your floors cleaner than ever with this great Microfiber mopping system
. Deep clean virtually any floor to a streak-free shine without the use of chemicals or additives. Just water and this Starfiber mop will remove 99% of all dirt, dust, and germs from your floors. Each set includes a complete floor mop kit with telescoping handle, and four reusable Microfiber mop pads. TWO wet/dry pads, One chenille wet pad and One dust fringe pad. Everything you need to clean any type of floor in your home for years ahead. Each Microfiber pad is specifically designed for a different cleaning task, and they can all be machine washed hundreds of times before needing to be replaced. This 12" mop features a smaller head that makes it perfect for household use. It is small enough to be convenient and versatile, but big enough to get the job done quickly.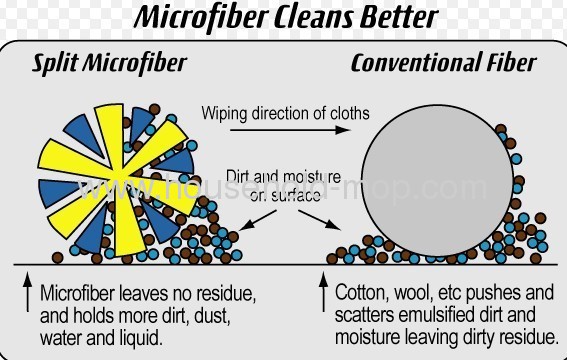 The advanced swivel design features a quick release attachment on the mop and has the ability to maneuver into, under and around almost any obstacles. It's perfect for use on any floor surface including hardwood, tile, marble, linoleum and more. It will never scratch or harm any floor, but it will make it a fast and easy process to get them clean with little effort. This Starfiber mop set is ideal for anyone with a new home, or just those looking for a faster, more eco friendly way to get floors clean.
Picture of PY12oz Floor Mop Set c/w Head Holder & Metal Handle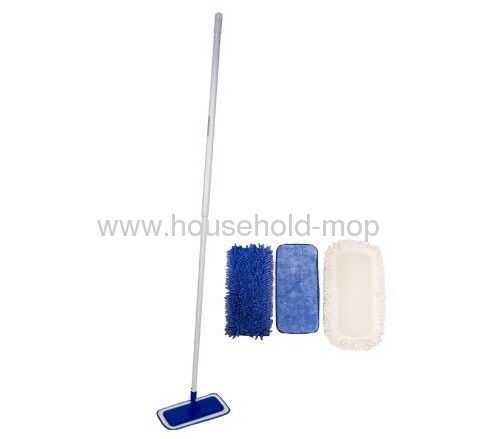 HOW TO USE IT: ThisScrubbydoo mop set comes complete with four pads. For this reason, it can be used wet or dry for various cleaning tasks depending upon your needs. Each pad is meant to be machine washed and reused after you are done cleaning. You will get hundreds of uses before replacement is necessary and don't worry we have refills for sale.

2 MULTIPURPOSE/COMBO PADS
- (The light blue one) Use wet or dry. Use it dry for dusting and polishing or damp for mopping and cleaning. This pad features an all purpose microfiber that is blue in color and soft and fluffy to the touch. Split end fibers increase surface area to maximize cleaning power. To clean your floor, simply wet the removable mop pad, wring out excess water, and then apply it to the head. Once applied, just glide the mop across your floor for a streak-free shine. You can even spray water directly onto the floor and apply the pad dry. This is the pad that is most frequently used, so we included two in each of these microfiber mop sets.
DUSTING PAD
- (The white one) Use dry. This pad is specially designed for dry use only and turns this mop into the perfect dust mop. It has a fluffy center, with a string mop style border. Quickly pick-up dirt, dust and pet hair from your floors. As you work, a static charge builds up and makes your job easier. Static electricity attracts dirt, pet hairs, dust balls, and micro particles like a magnet so you don't have to chase them down. This static charge also helps keep all of these particles on the ground and eliminates the fly away effect, so it is great for anyone with allergies or respiratory problems. If you have hardwood floors, you will love this pad.
CHENILLE PAD
- (The dark blue, shaggy one) Use wet or dry. This pad is similar to the multipurpose one in that you can use it wet or dry, but it also features some unique advantages. The chenille fingers increase surface area and spreads out the cleaning surface. This will allow you to scrub and clean those really dirty spots, or high traffic areas. This pad can hold more dirt and grime, and will pick up more dust when used dry. It is also more absorbent so it works better for high moisture applications and can be effective for cleaning up spills.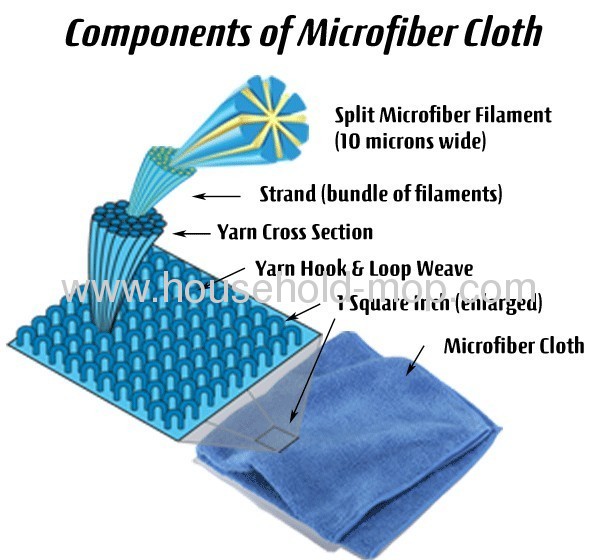 This household microfiber mop set by StarFiber features a smaller twelve inch head size, and cleans faster, easier, and better than almost any other available.
You will be amazed at how clean your floors are, and how easy it was to get them that way. The pads are made from the highest quality microfiber available, so they will clean easier, work faster and last longer than other brands. Since it is totally reusable and chemical-free, this is an environmentally-friendly way to clean your floors too. Each pad can be machine washed hundreds of times before it needs to be replaced. You can even clean ceilings, walls, high windows and ceiling fans thanks to the 60" long telescoping handle. Super-absorbent, highly durable microfibers are 100 times smaller than conventional fibers to cut through grime, but they won't ever streak, scratch or leave behind lint. While gliding effortlessly over your floors, the swivel head conveniently maneuvers into, under, and around difficult areas. Get under the bed, behind the toilet, into corners and other hard to clean areas. Discover a better way to clean. And do it without chemicals! Don't be fooled by imitations. Stop using disposable mops, second-rate microfiber products, or traditional sponge or rag versions. Clean your floors faster and easier with this Mop set.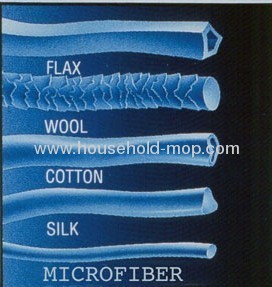 Item
Color
Name
item
AJ042
Grey
Wood Floor Cleaner Spray Mop & Floor Cleaner
Product Detail
Mop Pole
Pole Material
Telescopic steel pole with plastic coating
Pole handle Material
PP
Pole Length(Max,Min)
130cm;70cm
Mop Head
Mop head base material
ABS
Mop head base size
40cm*10cm
Mop Head Cloth
ClothMaterial
Cotton
Cloth Size
45cm*15cm
Joint(Pole with head)
Joint Style
Inner retracting button
Rotating
360°
Joint Material
PP
MOQ
3000
Packing Detail
Packing Method
1 PC product include
1 mop pole+1mop head+1 mop cloth
Export Brown Ctn
75*43*23
PCS/CTN
20
Loading Weight
N.W/CTN
14.48kg
G.W/CTN
16.68kg
Loading Quantity
20'FT
7010
40'FT
15099
40'HQ
17796