product name:Computerized Rotating Shuttle Multi-needle Quilting Machine
model:HY-XS64-2,HY-XS128-2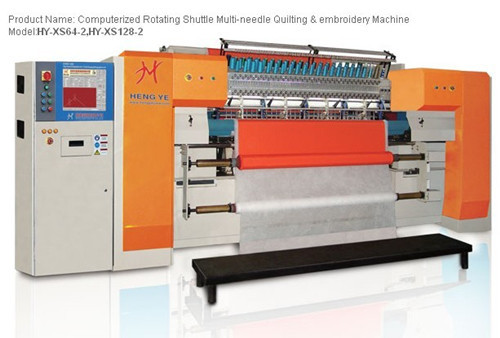 | | | |
| --- | --- | --- |
| Parameter Unit ( mm ) | HY-XS64-2 | HY-XS128-2 |
| Dimension(L×W×H): | 3930×1100×2170 | 5800×980×1950 |
| Stitch length: | 0.15~12.7 | 0.15~12.7 |
| Rotating shuttle | Big-size | Big-size |
| X-axis movement displacement: | 200 | 305 |
| Needle bar: | 2 bars | 2 bars |
| Needle layout | Every other slot in parallel | Every other slot in parallel |
| Speed (RPM): | 250~600 | 250~600 |
| Horizontal needle space: | 50.8 | 50.8mm |
| | 2 inches | 2 inches |
| Vertical needle space: | 76.2 | 76.2 |
| | 3 inches | 3 inches |
| Needle quantity ever bar: | 32 pcs | 64 pcs |
| The Maxium length of needle bar: | 1625mm | 3276mm |
| | 64 inches | 129 inches |
| Pattern Length: | 203.2mm | 348mm |
| | 8 inches | 12 inches |
| Stitch Quantity: | 1,200,000/stitches | 1,200,000/stitches |
| Pattern stock: | 1000/pcs | 1000/pcs |
| Power | 4.62 KW | 5.5 KW |
| Power supply | 380V/50HZ | 380V/50HZ |
| | 220V/60HZ | 220V/60HZ |
| Gross weight: | 2200kg | 3000kg |

Product Description:
1.Front and back needle bar structure with the minimum needle space-1 inch
2.The moving structure of needle bar is without needle post to avoid dirtying the materials.
3.Compared with embroidery needle head, moving structure without needle post is more durable and can save more maintenance expenses.
4.Quilting and embroidering in one time.
5.Based on CAD drawing, simple learning and easy operation.
6.Different patterns in each line can be quilted on 3.2m fabric and patterns can strongly combine.
7.Large storage that can save 1000 patterns
8.Running state testing and indicating in order to show how the machine works
9.Top thread break can be tested by advanced and practical testing function
10.Automatic needle-lifting and digital speed adjustment