It is an innovative universal charging station can charge up to 6 devices at the same time. And 10 interchangeable connectors are compatible with over 95% mobile phones in the current market. General speaking, it plays roles of universal charger and collector.
UNIMAX is designed to charge various mobile phones, digital cameras, portable video game station and so on. The battery charger function suits for at least 90% of the cell phones in the current markets. Stylish appearance & high compatibility are UNIMAX significant advantages.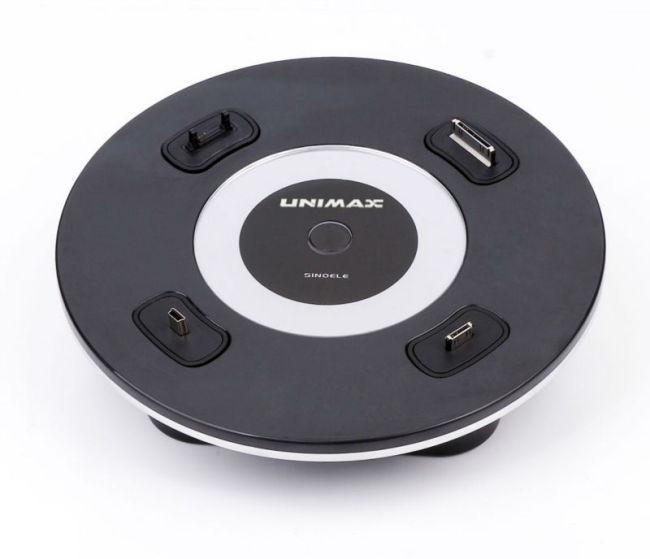 Advantages & Features:
*6 digital devices can be charged in the same time.
*high speed charging with the prevention of over-charging function.
*10 pcs of interchangeable connectors realized the high compatibilities.
*2 USB output suitable for all the cell phones which can be used for USB cable charging.
*easily connectors interchange.
*Bright black top surface, harden treatment, anti-scratched.

Technical specifications
*Power source: Electric
*Certificate standard: CE, RoHS, TUV, UL, PSE
*Dimensions:
Width: top surface diameter: 185 mm
Height: Pop up in top position 43.4 mm
Net Weight: 370 g without connects
*Color: bright black (piano color)
*Input:100V-240V/1A 45-60HZ
*Output(each terminal): DC 5.38V/0.8A(max)
*Output: 6 terminal
*Total Output :26 W(max)
*Fuse model &. Specification: 2A.250VAC.MSZ

Construction of UNIMAX:
* Unimax charge station 1 pcs
* AC cable 1 pcs
* 10 Connectors compatible with/to charge:
1X blackberry
1X Nokia Mini
1X iPhone 3G/S
1X Mini USB
1XMicro USB
1X Sony Ericsson K750
1X PSP
........

Safety information and maintenance
Before using your UNIMAX, please read the manual in the package:
1.Do not open the device privately , it will be cause the electric shock.
2.Do not store the device in hot areas. High temperatures can shorten the
life of electronic devices, damage devices, and make certain plastic aging.
3.Keep your UNIMAX and its accessories away from children.
4.Do not expose the UNIMAX to sunlight for long time.
5.Do not use the UNIMAX in extremely humid environments.
6.Do not use liquids or hard chemical products to clean your UNIMAX.