Cable SOOW Portable Power Cord 12AWG 18AWG 10AWG
Multi-Conductor
-40°C to 90°C
600V
No of Conductor
Color
2core
Black, White
3core
Black, White, Green*
4core
Black, White, Red, Green*
5core
Black, White, Red, Orange, Green*
*Green Conductor is for Grounding Purposes only
Application for SOOW Cable:
Cable SOOW Portable Power Cord 12AWG 18AWG 10AWG is for use in heavy-duty industrial applications where flexibility and durability is required. SOOW cableis designed for extra hard usage on industrial equipment, heavy tools, motor and welding leads, power extensions, portable machinery, sound equipment, portable stage lights, marine dockside power and mining applications. Constructed of color-coded synthetic oil, ozone and water resistant rubber (EPDM) insulation and an oil resistant thermoset chlorinated polyethylene (CPE) jacket, SOOW is rated for indoor/outdoor use.
SOOW flexible rubber cords carry a 600 volt rating. They are also manufactured as a 300 volt rated Junior Service cord designated as SJOOW. Using the key, a SJEOOW cord is a 300 volt (junior service) elastomer plastic oil resistant inner and outer jacket portable cord.
Cable SOOW Portable Power Cord 12AWG 18AWG 10AWG offers:
• Excellent resistance to oils, acids, chemicals, water, ozone, extreme
temperature, tears and abrasion
• Sunlight resistant
• Flame retardant
• Indoor/outdoor rated
• Highly flexible
• Maximum continuous conductor temperature: 90°C DRY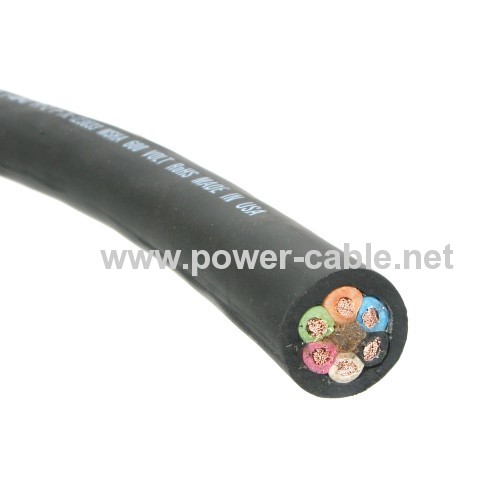 Please email us to get more details and good offer!