Products name:stepper motor shaft manufacturer in China

Production range:


The precision spindles manufactured at Hengyi are between 2mm and 25mm in diameter and 400mm max. in length.
We can provide the followings:
Steel spindles, steel shafts
Stainless steel splindles, stainless steel shafts
Turned spindles Turned shafts
Ground splindles, ground shafts
Gear out splindles, gear our shafts
Heat treated splinles, heat treated shafts
Specifications


Material

SUS420J2

O.D.tolerance

0.001mm

Straightness

0.001mm

Roundness

0.0002mm

Cylinderness

0.0005mm

Roughness

Ry0.4

Runout

0.01mm

Heat treatment

Bright quenching
Testing Method
| | |
| --- | --- |
| specification | Checking tools |
| Symmetry inacross flat | Gauge |
| Across flat | DigitalMicrometer/Gauge |
| Diameter | DigitalMicrometer |
| Rounout | Dial gaugewith" V" block |
| Knurling pitchdimension | Digital verniercaliper |
| Knurling pitchdiameter | Digitalmicrometer |
| Lenth of acrossflat | Digital verniercaliper |
| Burnishing areadiameter | DigitalMicrometer/Gauge |
| Length | Digital verniercaliper |
| Overall lenth | Digital vernier caliper |
| Splines diameter | Plain ring gauge |
| Hardness | Hardnessrockwell tester |
Process:
We often use ERP system to producing quality control, the processes for the shafts are usally the following:
Raw material(Drawn) → Cutting→Rolling →lather→grinding→polish→final inspection→pick up→package→delivery
We can offer PPAP documents.
Using instruction
Shafts can be used in every rolling things, such as electic motors , rotors, pump shafts .etc
Raw material
Materials: Carbon steel: SK45 CK45,EN8,60#,70#,80#
Stainless steel:SUS303,SU304, SUS316, SUS416,SUS420J2
Others: AISI4140, 42CrMo,ETG88 1144 12L14,430f,431,100Cr6, SUJ2, Gcr15
Raw materials are ROHS tested from the third party every year, such SGS, CTI.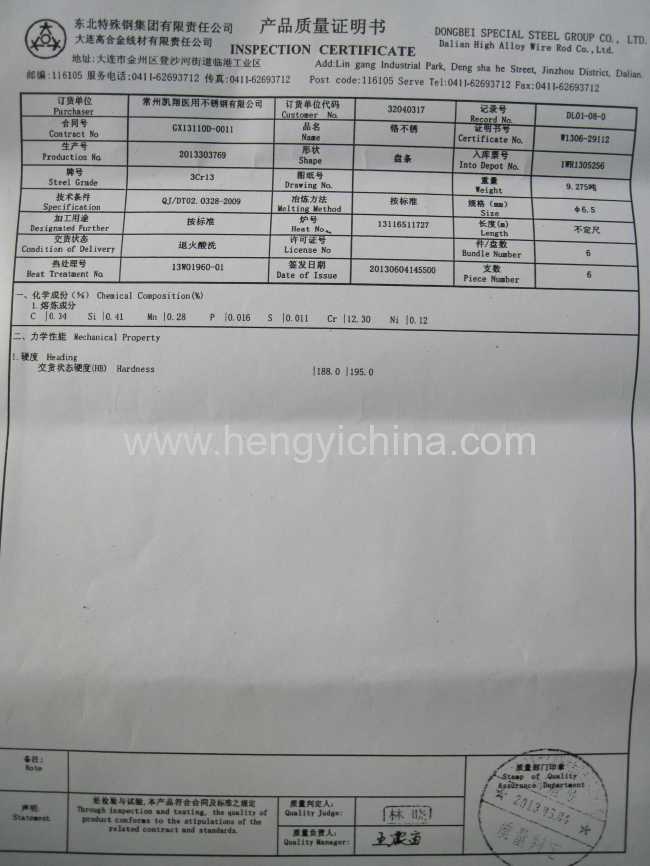 Package

Products certificate

Part.No.

Size

Quantity

pcs

Material

SUS420J2

Date

Product Information


Customer


Size


Material


Drawing No.

Production No.


Quantity

PCS


Date


Fenghua Hengyi Micro Shaft Co,.Ltd
Export:
Till now, our shafts have exported to USA, KOREA, JANPAN, SPAIN, INDIA, TURKEY.ETC