Gravity infusion is a widely-used medicalprocedure, but there are two main drawbacks that need to be improved: first, thedrip rate is usually estimated by naked eye and the accuracy is poor; second,real-time monitoring of infusion accidents is not feasible due to incapabilityof monitoring the drip rate infusion. These events include but not limited to:unauthorized alteration of the infusion rate by the patients, loose clamp on theinfusion tube, fall-out needles, clogged blood vessel, changed needle angle, andchanged venous blood pressure etc. These non-predictable medical risks can oftenlead to various degrees of health hazards, and even serious medicalaccidents.
The medical infusion monitor is theworld's first high-tech portable infusion monitor, which is aprecisioninstrument of the size of a "chewing gum" that clamps on the infusion tube. Itperforms continuous automatic monitoring of the infusion rate as an "independentthird device", which alarms upon detection of the above risks to ensure thesafety of the infusion. Meanwhile, it displays the infusion rate on LCD atreal-time to assist the healthcare professionals to set and adjust the infusionrate accurately.
1. Extremelysafe. This is the world's only monitor that does not contact with the medicalsolution, or to emit potentially interfering signals to the medical solutionsuch as the light waves/radiofrequency/ultrasonic;
2. This is theonly infusion rate monitoring device that clamps on the infusion tube, so itwill not cover the dripping chamber to interfere with any infusion operation orobservation;
3. This is theworld's only monitoring device applicable to all liquid medicine/blood and itsupports light-sensitive infusion too;
4. It is the mostlightweight, weighing only 20g with battery included;
5. It hasultra-low power consumption, and a button battery can support the infusionmonitoring for about 800 bottles of medical solutions;
6. Itis not sensitive to interferences by light wave/radiowave/ultrasound/tilt/vibration.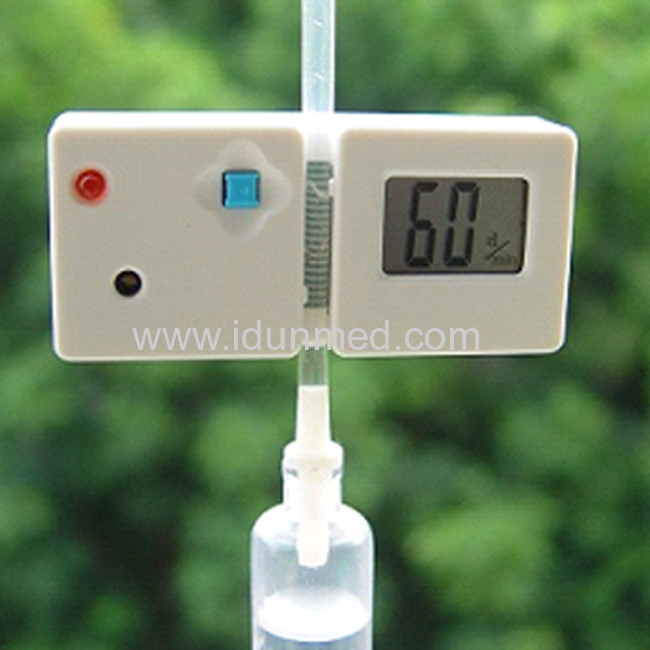 Model: IS-1A (infusionrate monitor)
Indications: gravityinfusion of all liquid medicine, blood and light-sensitive infusions
Monitoring methods:non-contact safe measurements (does not emit light waves, radiofrequency,ultrasound and other stimulatory signals to the drug solution)
Accuracy: measurementaccuracy of ± 1/50,000; display accuracy of ± 1 drop/minute(d/min)
Baseline/reference: thefirst 60 drops are used for adjusting and setting the infusion rate. The systemautomatically extracts the rate of the last few drops as thebaseline/reference.
Types of alarm: drip toofast (30% faster than the reference), drip too slow (30% slower than thereference), and drip pause (no drop for 12 seconds)
Display contents: 0-180d/min (drip rate), Fast (risks of drip rate too fast), Slow (clogged or fall-outneedle), LOCK (reference)
Alarm mode: sound andlight alarms (3 alarm modes corresponding to sound and light signals ofdifferent rhythms)
Power source: DC3V, 1CR2032 button battery; with low power indicator.
Operating current:<110uA (monitoring); <4mA (alarm); a battery can support about 800 bottlesof infusion.
Working environment:temperature 5 °C to 40 ° C; maximum humidity of 93 (± 3) %
Storage environment:Temperature -40°C to 70 °C; maximum humidity of 93 (± 3) %
Size: 62 wide x 28 highx14 thick mm
Mass: 20g (withbattery)
False alarm rate: lessthan 1 false positive or false negative/continuous working cycle of 24hours;
Other: this product isresistant to conventional light waves, radio waves, ultrasound, vibration andtilt interference.