Any time, we provide power service, then power tools.

AWLOP 1000W Electric Lawn Mower Flail Mower • LM340A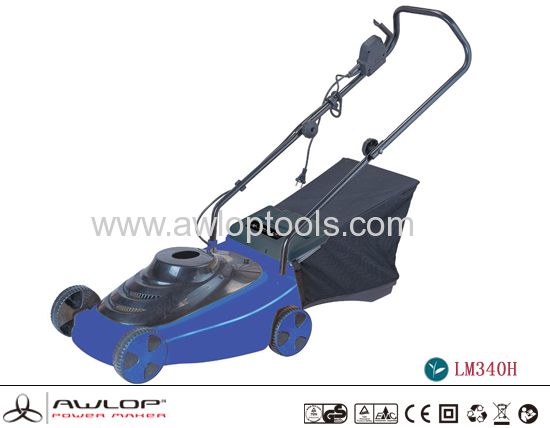 Product Specifications
| | |
| --- | --- |
| Voltage | 230V~50HZ /120V~ 60HZ |
| Input power | 1000W |
| No-load speed | 2800/min |
| Cutting width | 340mm |
| 3 cutting height | 25mm / 45mm / 60mm |
| Grass collection capacity | 40L |

Product Description:
♥ Uses a powerful electric motor to quickly and efficiently mow your lawn
♥ Easy push button start; no messy oils or gasoline
♥ Integrated cord lock prevents cord from disconnecting
♥ Telescoping shaft adjusts to accommodate operator's height
♥ Compact design is easy to maneuver and takes up less storage space
♥ Hard-top grass catcher detaches easily for convenient disposal

Responding to the need for an easy-to-use machine that takes care of your yards, AWLOP developed the Mow, a electric lawn mower with the convenience of an electric unit. Its durable steel blade cuts 14 wide with precision on each pass. In addition to its hard-working mowing capacity, the Mow features a three position manual height adjustment. The Mow is equipped with a hard top rear bag, which detaches easily for convenient disposal.

Our Advantages:
1. Trade directly experience who has over 20 years' history.
2. Professional team.
Perfect quality.
Perfect service idea.
3. Competitive price.
4. Best manufacturer in Southeast China.
5. We accept all kinds of payment & trade terms.

Related Keywords:
Mower. Lawn mower. Diesel lawn mowers

Want To Know More?
You can send us an email or dial +86-574-87105171 for help or get advice.
Any question, pls contact us with no hesitation.