Hospital Furniture: Monitor Bracket


In modern hospitals, the Medical Monitors are one kind of widely used medical equipments. Especially in the Intensive Care Units (ICU), the medical monitors are necessary medical equipment for each patient. Some time, one patient shall be monitored by even several different medical monitors.


In such a situation, it may need a special place to put the medical monitors. In some ICU, there are Ceiling Mounted ICU Pendants. However, in many hospital, there are not ICU Pendant in the ICU. They need some other special and low cost hospital funiture to place the medical monitors.

The Wall Mount Medical Monitor Bracket is such a special and low cost hospital furniture.

The Medical Monitor Bracket is wall mounted. With a small arm to load medical monitor. This arm can be adjusted along the wall mount rail vertically. Also, with loaded medical monitor, the loading plate can be adjusted both vertically and horizontally.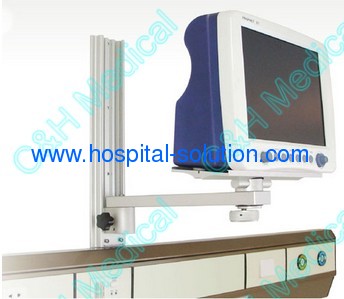 Specification:

Horizontal Rotating Angle: 120 degrees;

Vertical Rotating Angle: 15 degrees;

With Basket;

Customized for different models of the Medical Monitors;


Package: Exporting Cartons with Plywood Frame
Package Dimension:
38.0*23.0*17.0cm (Bracket)
28.0*18.0*15cm (Basket)
Gross Weight: 3.10Kgs
Net Weight: 2.50Kgs


We customize patient monitor brackets for different model of medical monitors.

We also supply Medical Monitor Bracket Trolley.