Natural Bamboo Cheese Board With Knife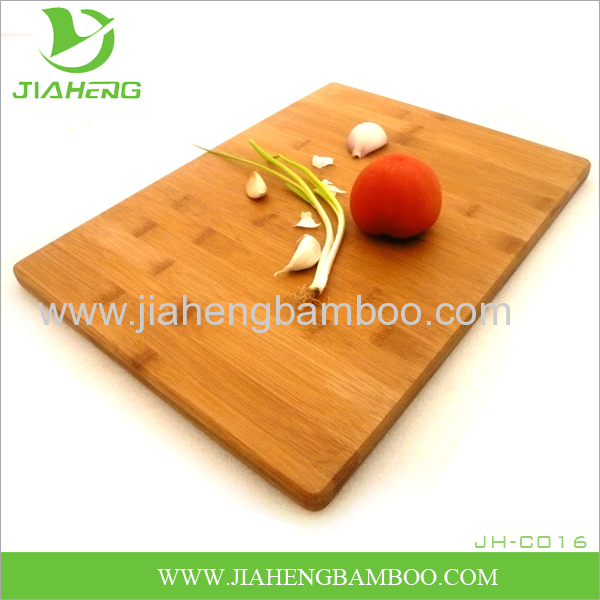 Descripition:
| | |
| --- | --- |
| Item | Bamboo Cheese board with silicone Strainer |
| Model No. | JH-C016 |
| Material | Natural Bamboo |
| Dimension(cm) | 40*25*2CM |
| Inner Packing | Shrink Wrap with Color Label, |
| Certificate | SGS, LFGB,FDA |
| Color | Carbonized bamboo |
| Delivery | 35-40 days |
| Shape | As illustrated |
| Usage | Fruit, Bread & variety of kitchen needs |
| Export country | USA, Australia, Germany, Croatia, Russia etc. |
FEATURES:
Nowadays, bamboo products become more and more popular due to its unique style, eco-friendliness and durability.
1. The material natural bamboo is harder and more durable than wood, eco-friendly;
2. Bamboo board is lightweight, can double as serving trays;
3. Its unique design of fetching aesthetic look could also prevent warping;
4. The glue has been tested for food-safe;
5. Its beautiful natural finish is carbonized, with no dyes or stains used;
6. Sleek board is scratch & moisture resistant, won't dull knives;
7. It has characteristics of no crack and falling dregs;
8. Treated with special process made it antibacterial;
9. MOQ: 3000 pcs each time;
10. OEM design and customized is available.

If you're looking for an eco-friendly gourmet goodie to give your guests, you've found it! This cheese board is made from sustainable bamboo, and comes with an adorable carved bamboo spreader. Heart-shaped and handsomely gift-boxed, the cheese board and bamboo spreader are truly a take-home treasure. Also absolutely perfect for bridal showers and to place inside welcome bags for out-of-town guests. So eco-gourmet!

Natural Bamboo Cheese Board With Knife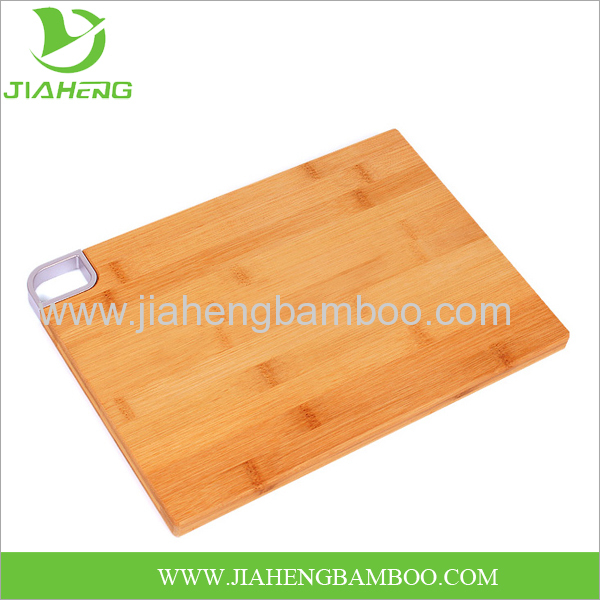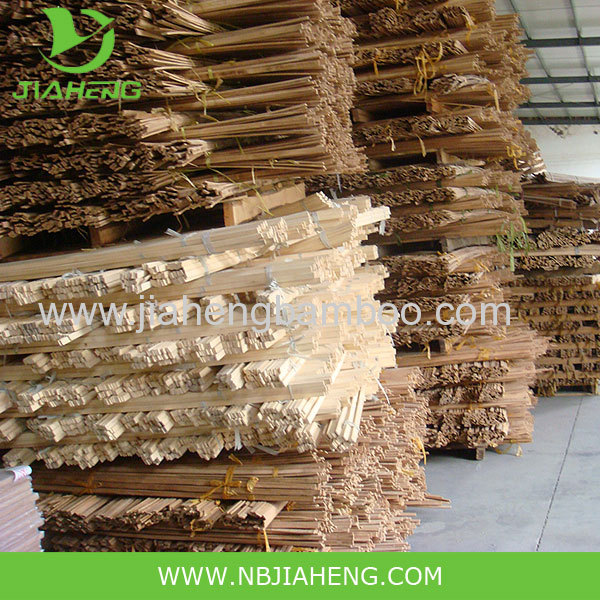 Why Bamboo?
Bamboo is one of the most remarkable resources on Earth. As a member of the grass family, not a tree, it grows at a much quicker rate than any other wood. From start to harvest (60-70 feet tall) it can take just four years. Bamboo is naturally anti-microbial, therefore stopping bacteria from growing. It is also one of the strongest yet lightest materials around. Bamboo is 16% stronger than Maple and is 33% lighter in weight than Oak. What is probably most remarkable is its unique extensive root system. When bamboo is harvested its natural root system spreads and automatically regenerates itself.

Virtually all of the bamboo we harvest is used in the process. When we harvest the bamboo stalks at 70 feet it is cut up and divided into different production materials. The bottom section is primarily used for flooring and building materials. This is usually the toughest and hardest pieces to bend. The middle section is used by our factories to make these lovely handcrafted products ranging from our assorted boards to versatile bowls and everything in between. The top section is used for smaller thinner items such as chop sticks, and accessory items. Even the saw dust created during the cutting is collected and mixed in with other materials to create a concrete like substance used for building and fixing a variety of items.
Product Description
Mainly products: Bamboo cutting board/chopping block/blocks, bamboo bread board, bamboo cheese set, bamboo cutlery box, utensil set, spoon, fork, tong, slotted, spatulas, soup spoon, bamboo tea box, bowl, pen holder, serving tray, tray, tray with leg, bamboo cup mat, bamboo dish rack, bamboo laptop/notebook desk, bamboo shoes rack, bamboo trangle rack ects...

Which have promising markets in Europe, America and southeast Asia.
1. Eco-friendly products
2. Cheese board
3. OEM service offered

For more detail, we welcome your further inquiry.

If you want more detailed information of this product or related problems, please contact with us, we will reply as soon as possible (general in 24 hours)..