PE plastic pipe extrusion line for water pipes process:
Process line of PE pipe production line:
Raw material+Masterbatches→Mixing → Vacuum feeding → Material dryness → Single screw extruder → Extrusion mould → Calibrator tank → Spraying vacuum calibration tank → Spray cooling water tank → Belt haul-off → Single screw glue extruder → Winder → Winding roller forming → Water cooler → Pipe rack → Finished product stacker→Products packing
PE pipe plastic extrusion machine
PE pipe extrusion line for water and gas supply pipe has features of high speed, high efficiency extrusion single screw extruder is specially designed for extruding PE etc. material, equipped with the lower noise, high speed and hard gear reducer. The Special grooved feeding bush with water cooling system results in increasing compression and filling factors. Specialized screw designs for high output, low melting temperature, good plasticization effection, lower energy consumption.
Spiral diffluence type extrusion die is specially designed for PE extrusion. Unique design of low-pressure inclined flow passage spiral/lattice basket die head, ensures low temperature and high plasticizing extrusion of PE pipes; Special designed die core spiral temperature control, ensures the performance of PE pipes; Multi-layer co-extrusion die offers the advantages of low cost and flexibility of layer structure with different material. it features in easy adjustment and even extrusion, ensures that melting pressure and flux are uniformity, the surface of pipe is smooth and shapely. If you have any needs about PE pipe extrusion line feel free to contact me. Skype is benicexiaofei

PE pipe production line main technical parameters:
Benice Company PE Pipe Production Line Main Technical Parameters

MODEL

OD RANGE (mm)

MATCHED EXTRUDER

OUTPUT(kg/h)

TOTAL INSTALLED POWER(kw)

PEG-63
20-63
SJ60/33 SJ25/25
120-220
80

PEG-160

50-160

SJ75/33 SJ25/25

120-220

130

PEG-250

75-250

SJ75/33 SJ25/25

280-350

280

PEG-450
160-450
SJ90/33 SJ25/25
350-450
400

PEG-630

315-630

SJ120/33 SJ25/25

550-850

550

PEG-800

450-800

SJ150/33 J25/25

800-1300

750

PEG-1000
600-1000
SJ150/33 SJ25/25
800-1300
750
PEG-1200
800-1200
SJ150/33 SJ25/25
800-1300
900
PE PIPE EXTRUSION LINE DURABLE MOULD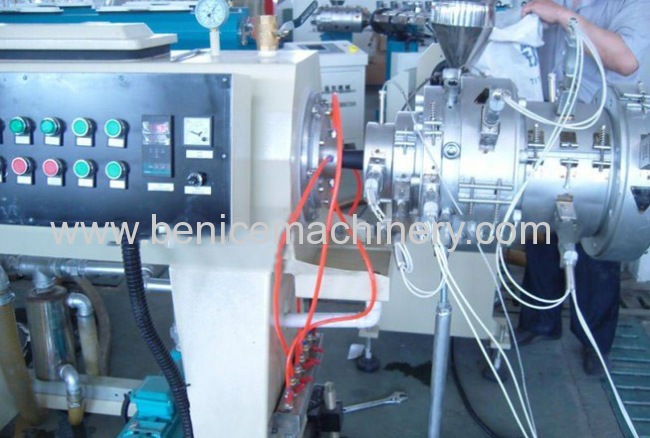 We benice has more longer guarantee time for you with free spare parts
We use imported spare parts, like ABB INVERTER, RCK TEMPERATURE CONTROLLOR, SIEMENS CONTACTOR, RELAY, ETC.
Two types can be choosed for all single screw extruder according to your requires:
(1)PLC automatic control system
(2)ABB inverter(frequency speed regualtion control) semi-automatic system