2014 Hot Sale Skip Hoist Cement Batching Machine HZS50 for Sale
I. Features:
1. This type of Cement Batching Machine is stationary and ensure its stability and high production capacity.
2. With high configuration, such as accurate aggregate weighing bins, OMRON PLC, Schneider Brand electrical elements, even the concrete mixer can be SICOMA Brand

3. Owing to the control system of this Cement Batching Machine is ful-auto. The operator can catch the working situation at any time through the compurter in the control room.
4. The mixing system of the concrete mixer is double horizontal shafts, imporve the mixing efficiency.

5. Ful-auto lubirication system can supply lubicated oil timely and protect the shaft assembly and prolong the service life of Cement Batching Machine.
II. Technicals
| | |
| --- | --- |
| Model | HZS50 |
| Rated Productivity | 50m3/h |
| Main Mixer | JS1000 |
| Max. Aggregate Diameter | 80mm |
| Capacity of Aggregate Bin | 4X8.3m3 |
| Aggregate Conveying Mode | Skip Hoist |
| Aggregate Weighing Precision | 4X 4500Kg ±2% |
| Cement Weighing Precision | 1500Kg ±1% |
| Fly Ash Weighing Precision | 1500Kg ±1% |
| Water Weighing Precision | 1000Kg ±1% |
| Additive Weighing Precision | 100Kg ±1% |
| General Power | 120Kw |
| Total Weight | 44T |
| Outline dimension (L*W*H) | 44m×18m×12.7m |
| Discharging Height | 4.1m |
| Powder Silos (for customers choice) | 50/100/200/300T Bolted Silo |
| Screw Conveyors (for customers choice) | LSY219/273 |
III. Main Parts Detailed Photos

Concrete Mixer JS1000
Double Horizontal Mixing Shaft

Ful auto Lubrication System

Hydraulic Discharging

Wear-resisting Lining Board, Mixing Blade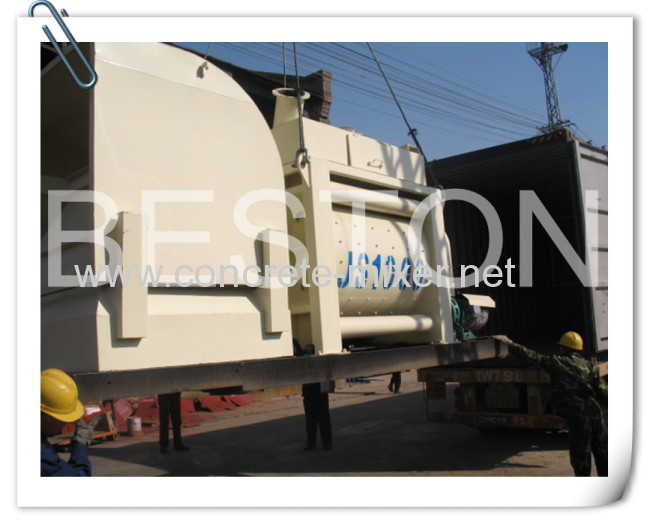 Concrete Batching Machine (Aggregate Bins)
Pneumatic Discharging

Independent weighing bins for different aggregates

Professional design assure the weighing accurace
Powerd Silo and Screw Conveyor
Bolted Cement, Flyash Silos

Supply Enough Screw and Bolts, Glass Cement, assure the sealing after assembly

The Silos equiped with Filter, Handrails, Maintenauce Platform, Inside and Outside ladders, Vibrator, Manual Butterfly Valve, etc.

Ful-welding with enough strengthing ribs to prevent warping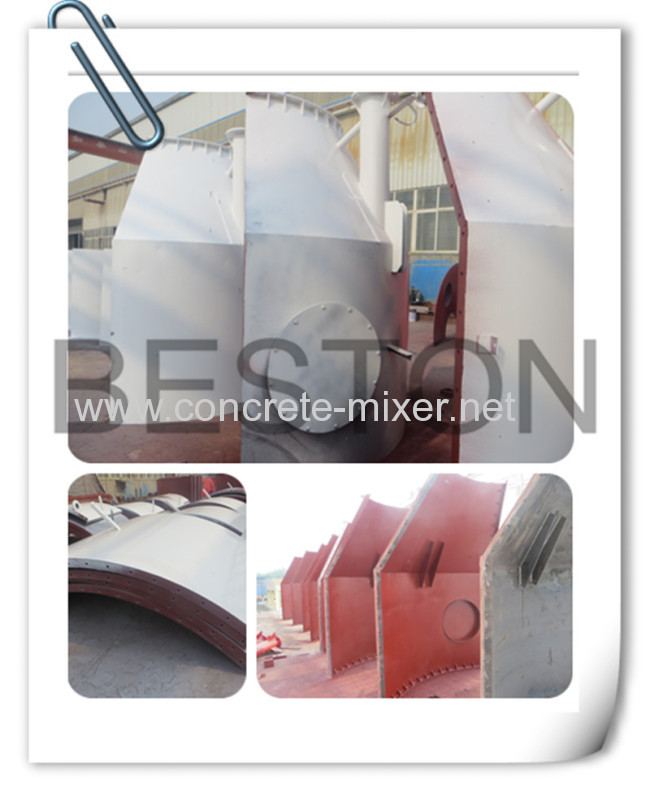 Control System
High Configuration for the Control Room of HZS50 Cement Batching Machine

PLC, Monitor, Air Conditioner, Lights, Printer, Control Panel, etc.

International Famous Brand Electrical Elements.

Widely eyesite, the operator can catch the outside working situation.