Specifications
American type hose clamp
1.material:stainless steel or carbon steel(W4 / W1) ss300 series
Bandwith 8mm / 12.7mm
2.torque balance
3. High quality
4.Delivery on time
12.7mm American type hose clamp
Specificatios:
1).Material:stainless steel
2).Grade:201/304/316/316L etc.
3)Band width:12mm/12.7mm/14mm/16mm
4)Size :various sizes are avaliable,after your order
Advantages:
1).The outer edge of the band with smoothing and shaping treatment precludes the damage of the hose.
2).using high quality material and precise stamping molding, prevents thread stripping.
3).with precise design, uniform stress, good sealing ability, can be twisted smoothly, and used multiple times.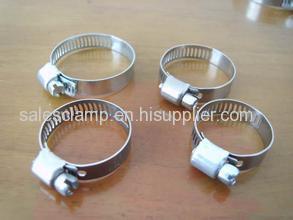 SIZE :