8 Inches Diameter Bluetooth Musical Speaker Shower Head Massage Type Sunflower Shape
Product Introduction
Shower Head Waterproof Bluetooth Speaker is a new progress in the development of wireless Bluetooth speakers. It brings a better way to listen to music in the shower. The speaker itself is a detachable Bluetooth device, made of white soft silicon, fixed into the shower head and it is very easy to remove. Thus, you can take it away from shower head to wherever you want. It is powered by a rechargeable battery that will provide 7 hours working time, and easy to recharge through an built-in USB port. And Polished chrome finishing makes its appearance more beautiful.
We often think that the shower time is boring before. The shower head waterproof Bluetooth speaker will change your view completely. With the speaker, now you can listen to your favorite songs in the shower and take phone calls too. Using Bluetooth technology, the speaker easily connects to your phone in a range of up to 10 meters. IPX4 waterproof function makes you feel free to using the speaker in shower. No matter how long time you spend in shower, you will not feel boring and tired. Because you are enjoying the beautiful music in the shower, you are relaxing physically and mentally. If your phone call coming, press the button, music stops for answering phone , and music continues after phone call.  
I believe you will love and enjoy your shower time after using the shower head waterproof Bluetooth speaker, even though you don't like bathing before. Because it is such a wonderful speaker!
Specifications:
| | |
| --- | --- |
| Bluetooth Name | MSH008 |
| Bluetooth Version: | Version 3.0+EDR |
| Available Range: | 10 Meters |
| Frequency response: | 10GHz |
| Waterproof grade: | IPX4 |
| Operating time: | approx 10 hours of music or talking |
| Output: | 3W |
| Charger power supply: | DC5V 500mA |
| Plate Size: | 8 inches |
Feactures:
Speaker type: Bluetooth shower head speaker
Shower head diameter: 8 inches
Playing time: 10 hours
Batteries: 1 lithium ion battery required(built-in included)
Color: Polished chrome
Finish: Polished chrome
Material: Antibacterial resin
Power source: battery
Warranty time: Lifetime limited warranty for shower head,One year limited warranty for speaker
Function: Pairs wirelessly with bluetooth, enabled devices to deliver music and coming phone call to shower
Finish standard: The finish is engineered to resist corrosion and daily wear
Sing and song: The bluetooth speaker fills the space with clean and clear sound
Spray nozzle: the silicone spray face makes it easier to wipe away mineral buildup
Descriptions:
1)Music & Phone: Wireless bluetooth music and phone shower head can through bluethooth link to your mobile phone.
2)Waterproof & Noise Reduction: can reduction the noise of water,can be clearly hear the voice when you are in bath.
3)Easy to Operate:Turn on bluetooth on your phone,while you are in bath,Max Link 10 Meter to your mobile Phone.
4)Automatic Answer Phone Systerm:Music stops for answering phone if phone call coming,music continues after phone call.
Advantages for MIC Phone/ Music Bluetooth Shower Head Speakers
1. Shower head with wireless bluetooth speaker;
2. Speaker can deliver up to 10 hours music songs;
3. 3W high-fidelity clear stereo waterproof speakers fixed on the shower head;
4. Completely support Bluetooth V3.0 + EDR;
5. Outstanding RF power amplifier performance;
6. Simulated dual microphone noise cancellation;
7. The latest audio algorithms improved calls and sound quality.

8. Lifetime limited warranty for shower head,One year limited warranty for speaker
Attentions:
Please match the battary USB wire in right way, do not squeeze it too hard.

In common,the maximum output voltage is 5.5 V.

If the speaker fall into water,please pick it up and dry it by towel,then it could use in the normal operation and will not have bad influence.
Beautiful Appearance of Shower Head Wireless Bluetooth Speaker
The Wireless Bluetooth Music Loudspeaker inside the Shower Head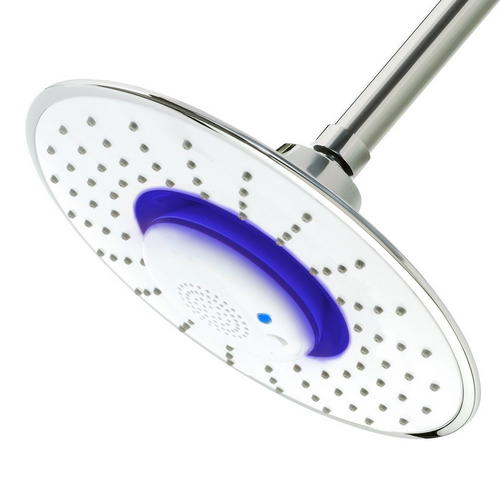 Supply OEM service, any logo can be printed on the surface as your requirements!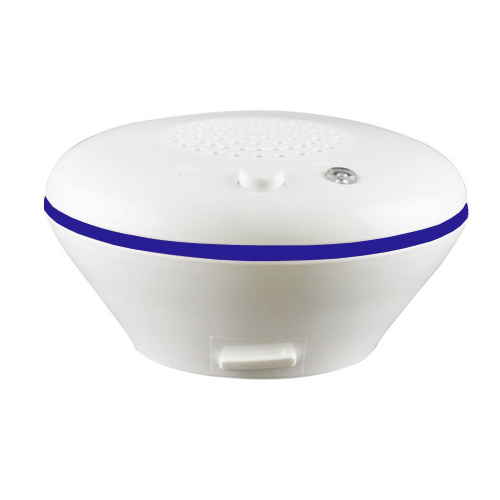 Operating guide
Enjoy music when you are in shower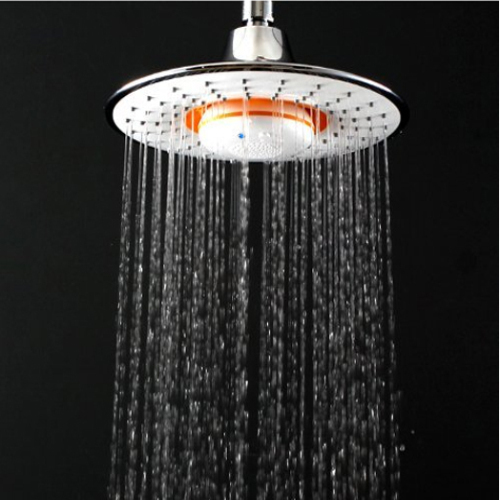 IPX4 waterproof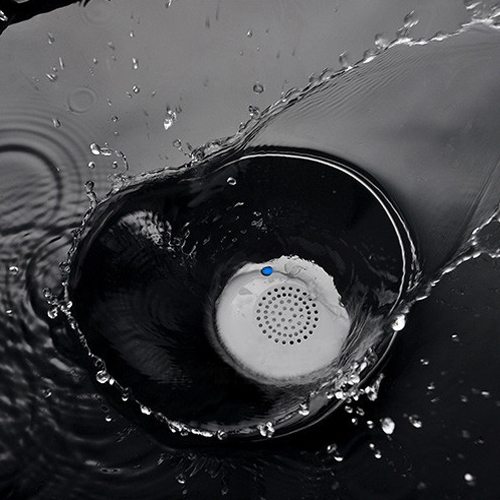 Connector
Different colors to choice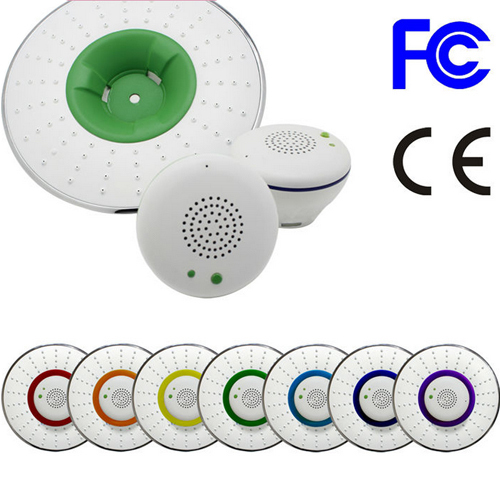 Export packaging information
20pcs/ctn
W.G: 65kgs
Measurement carton: 54.5*46*47 cm
Also accept customised box
What's in the box?
The speaker, shower head, cable and Instructions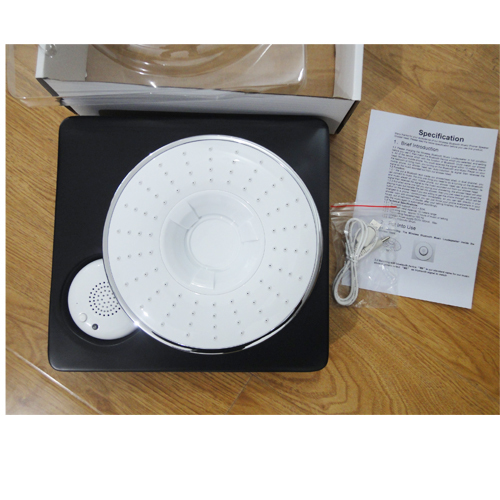 Production process pictures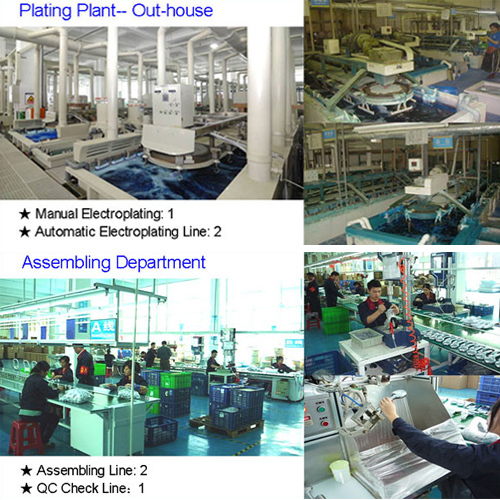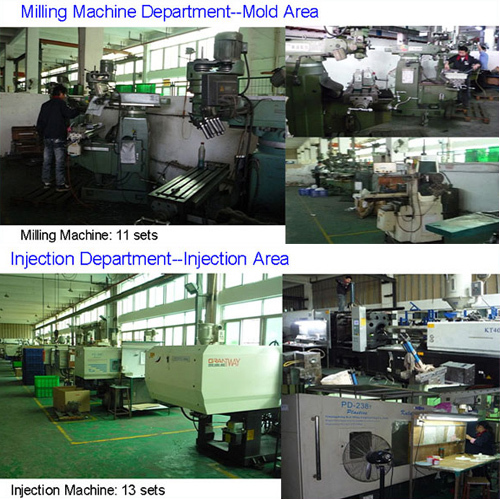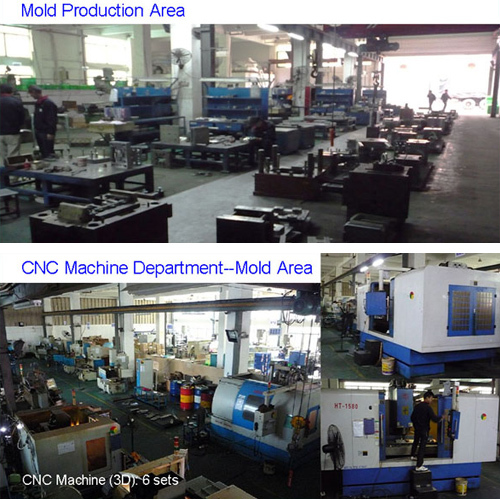 Why choose us?

1. We work together with very little time difference to increase productivity.
2. We have a trained team to follow up all details on the order and samples.
Nothing will be missing.
3. We have QCs team to inspect the product quality.
4. One-year quality international warranty to secure your business.
5. We provide the sourcing service for some small companies or new created companies if you think it's hard to find a suitable supplier in China, no worries, we would like to be your eye in China and help you find what you do want.
Navy Blue Shower Head Wireless Bluetooth Speaker Built in Mic
As a new product,Navy Blue Shower Head Bluetooth Speaker for music has been loved by many customers as soon as it appeared on the market in the end of 2013.
We are a potential and reliable manufacturer of the multifunctional bluetooth speaker in China,we look forward to work with you.