Welded Wire Mesh made of pvc coated wire
Welded Wire Mesh is made of high quality low-carbon steel wire through automatic process and sophisticated welding technique,then after cold(electro) galvanized,hot dipped galvanized and PVC coated,etc.surface ,passivation,plastic treatment.It has the features of being smooth in mesh,even in mesh hole,firm in welded points,good in local processing performance,stable,anticorrosive,etc.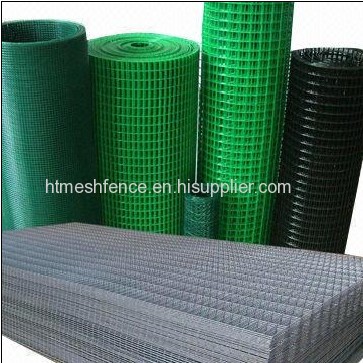 Application: It is widely used in industry,agriculture,construction,transportation and mining etc. Such as machine protective cover,animal and livestock fences,flower andplant fences,window fences,thoroughfare fences, poultry cages,egg baskets. office baskets, food baskets, paper baskets and used for decoratioin.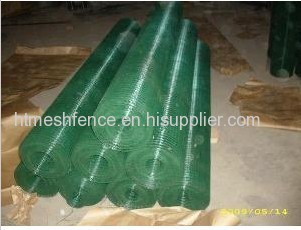 Specification:
Welded Wire Mesh

Mesh

Wire diameter

In inch

In MM

Wire Gauge

In MM

1/4"X1/4"

6.4mmX6.4mm

22BWG-24BWG

0.7mm-0.6mm

3/8"X3/8"

10.6mmX10.6mm

19BWG-22BWG

1.0mm-0.7mm

1/2"X1/2"

12.7mmX12.7mm

16BWG-23BWG

1.6mm-0.6mm

5/8"X5/8"

16mmX16mm

18BWG-21BWG

1.2mm-0.8mm

3/4"X3/4"

19.1mmX19.1mm

16BWG-21BWG

1.6mm-0.8mm

1"X1/2"

25.4mmX12.7mm

16BWG-20BWG

1.6mm-0.9mm

1"X1"

25.4mmX25.4mm

14BWG-21BWG

2.0mm-0.8mm

11/2"X11/2"

38mmX38mm

14BWG-19BWG

2.0mm-1.0mm

1"X2"

25.4mmX50.8mm

14BWG-16BWG

2.mm-1.6mm

2"X2"

50.8mmX50.8mm

12BWG-16BWG

2.6mm-1.6mm

Standard mesh:30m each roll.width 0.5m-2.5m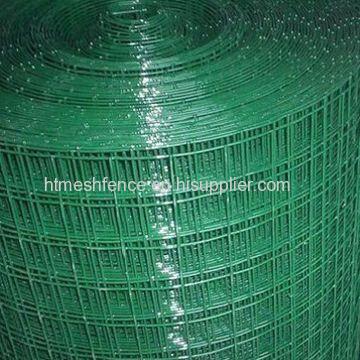 Surface Treatment : Forms of corrosion resistance include electric galvanizing, hot-dipp galvanizing, PVC spraying and PVC coating.
Property: Welded wire mesh panels enjoy such properties as corrosion resistance, aging resistance, sunshine resistance and weather resistance.
Welded wire mesh Materials: The high-quality low-carbon steel, stainless steel wire.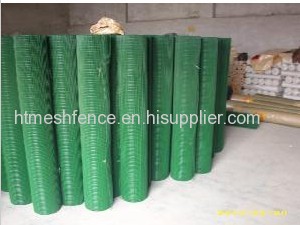 Haotian Hardware Wire Mesh Company Advantage :
1.Anping factory price- the biggest wire mesh hometown in China
2.Over 14years experience& SGS certifications
3.Professional staffs work for you all the time
4.We believe : Integrity comes with innovation and we will make ideas happen!